Basketball: Young coaches module two training
11-September-2018
Level two training to further boost youth development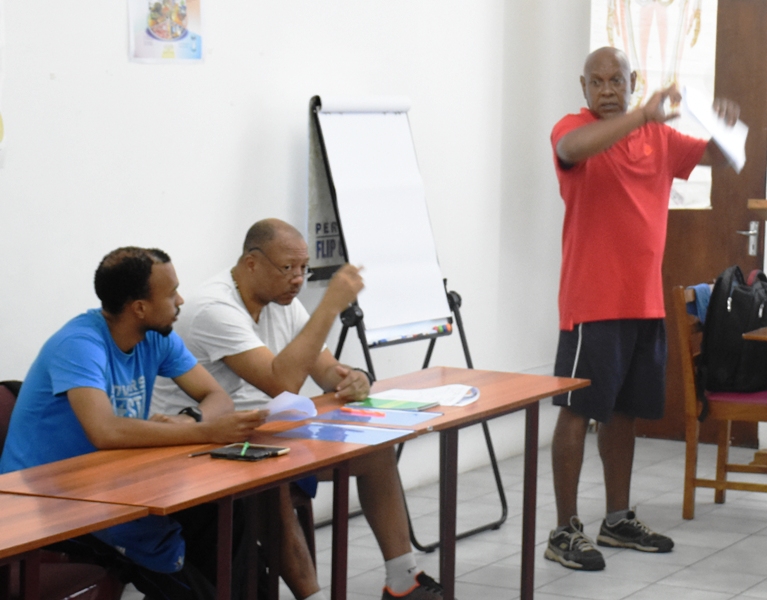 Youth development programme remains the top priority of the Seychelles Basketball Federation (SBF) and despite all the challenges, the federation will remain focus towards achieving its target, chairman Terry Celeste has said.
Mr Celeste made the comment yesterday, at the launch of the Young coaches' module two training which is taking the Sports Training Centre at Stad Popiler.
Despite the low turnout, Mr Celeste added they will still carry on with their programme as they are now getting the full support of the new management of the National Sports Council.
The one-week training is being conducted by Fédération Internationale de Basketball (Fiba) coach instructor Paul Denis.
The second level is for coaches holding the module one and one year of performance in a club or a training centre (mini-basket). It allows the trainee to acquire tools to manage the youngsters aged 13 to 18 years.
Introducing the course, coach Denis said he will focus purely on the technical aspects of the game as good technique is the key to success in basketball.
He explained that the training will also involve a lot of interactions as collectiveness and sharing of ideas are crucial in the running and development of the sport.
Coach Denis further added that the training is also a good preparation for the new and updated level one coaching course recently introduced by Fiba.
The role of basketball in educational development of young players; the development of basic offensive and defensive fundamentals for youth 13-14 years old; attitude of the coach before, during and after the match; developing the individual offensive fundamentals (passing, dribbling and shooting), perfecting of offence and defence collective basic elements; and organisation of training sessions are among the key elements that will be covered during the session.
On the last day of the training programme, there will be a written test along with a practical and pedagogy and an oral test.
R. D.