CBS offers two scholarships
11-September-2018
The Central Bank of Seychelles (CBS) revealed its expanded scholarship programme in a brief press conference at the bank's premises yesterday afternoon.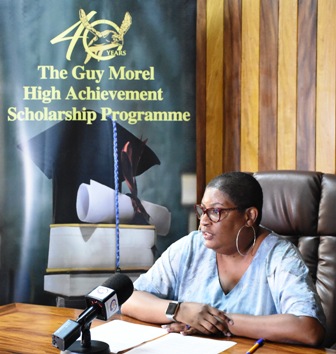 CBS Governor Caroline Abel explained that the scholarship programme which was first launched in February 2018 originally named the 'CBS High Achievement Scholarship', has now been renamed the 'Guy Morel High Achievement Scholarship'in honour of the late Guy Morel, the first Governor of the Central Bank, who was pro-active and dedicated many years of service to the local financial sector and was also a firm advocate of financial education, training and development.
In addition to the name change, CBS will now be offering two scholarships next year as opposed to one. One undergraduate scholarship in economics, finance, banking and law is on offer while another in Fintech (Financial technology), Financial Law, Financial Journalism and Forensic Accounting is being offered at postgraduate level.
Both scholarships will be awarded to Seychellois nationals who are residing in the country at the moment of application. Candidates will be selected by a committee set up by CBS comprising staff at CBS as well as an independent party to ensure that the process is fair and transparent. The committee is being headed by the CBS head of human resources, Juliana Rose.
The requirements for the undergraduate scholarship are that the applicant must have studied at a certified academic institution on a full-time basis with excellent results in their A level examinations.
Applicants wishing to apply for the postgraduate scholarship need to have successfully completed a first degree in a related field while also having three years of relevant work experience and with excellent academic and professional records.
A further requirement for the postgraduate scholarship on offer is that the applicant must not be aged over 45 years old.
"We intend to offer scholarships in any sector related to finance and economics. If an individual works in the financial sector or wishes to have a career change and opt for the financial sector, they will be welcome. There are numerous opportunities in finance," she said.
Ms Abel confirmed that CBS will cover all tuition fees, textbook and clothing allowances, return airfares as well as other related costs.
She also said that the scholarships are open to anyone whether in the public or private sector and that upon successfully completing the course, the individual will not be bound to CBS, but will be free to return to their previous job or seek employment elsewhere.
The scholarship programme forms part of CBS' commitment to attract and inspire outstanding individuals to choose a career in the financial services sector, and provide further training opportunities in various fields, to address the current shortage of highly trained personnel in this sector.
CBS is expected to award two full scholarships annually, one undergraduate and one postgraduate in specific priority fields identified by the Bank.
The financial institution initially launched the programme in February this year whereby an undergraduate scholarship in the field of Forensic Accounting was offered but there were no applicants, something Ms Abel attributes to the limited time limit they placed on the offer. However, potential applicants have between today (September 11) and the end of February 2019 to apply either on the CBS website or by submitting a video or written application to the bank.
It must be noted that applicants are free to make a choice with regards to which university to attend.
"We have not placed any restrictions on the venues for study as we want the applicants to be comfortable and to complete the course successfully. By the end of March 2019, we will have a public announcement detailing how many applications we received and who has been awarded the scholarship," Ms Abel said.
More details are available on CBS' website as well as their newly launched Facebook page.