Cinea strikes off Miss Seychelles Pageant from its calendar
11-September-2018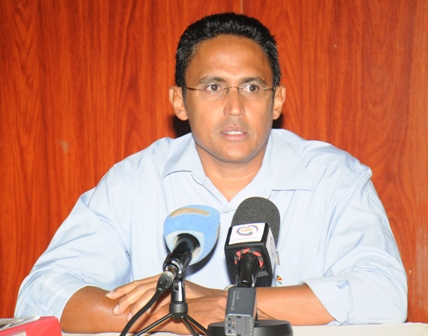 The Creative Industries and National Events Agency (Cinea) has announced that it will no longer be organising the annual Miss Seychelles beauty pageant due to the fact that there are no returns on the high investment they make for the pageant and for the winner to participate in Miss World.
Deputy chief executive of Cinea, Gustave De Comarmond, revealed the decision in a press conference at ICCS yesterday morning.
He explained that the decision was taken earlier this year following consultations with various stakeholders and concerned parties.
Mr De Comarmond noted that the estimated costs for Miss Seychelles' participation in the Miss World beauty pageant held annually amounts to R1.5 million as there is a £5000 entry fee as well as various other costs including air fares, living expenses, clothing and grooming.
He remarked that the funds allocated towards the pageant can be used to address other needs and sectors of the country's socio-economic development.
"Following my visit to the Miss World beauty pageant last year, held in China, I talked to other license holders from other countries and realised that nobody stands to benefit much from the event," he said.
According to Mr De Comarmond, the ladies are "exploited" in the Miss World contest.
"From the first day, they are involved in various activities such as photo shoots for various companies which is extremely tiring for them. They did that for the entire month of their stay in China. Furthermore, once the main event was finished, the girls were forced to check-out of the hotel early the next morning which questions why were they not allowed to stay a few more days so they have time to rest before having to travel back to their respective countries?" he said.
He also revealed that the organisers of the Miss World beauty pageant failed to deliver on some of their promises such as having a dedicated airport desk for the contestants' arrivals and departures and making arrangements for their extra baggage as the participants are required to have a variety of costumes for the duration of their stay.
Asked about the current Miss Seychelles, Hilary Joubert crowned last year, Mr De Comarmond revealed that her reign ended on August 26 this year. He also commented on a social media post by Miss Joubert in which she said she did not receive adequate support from Cinea to implement her project for a anti-bullying reform centre to be established.
"We at Cinea, the staff and I are very shocked and disappointed to have learned about the post in which Miss Joubert said she did not receive adequate support for her project and that she did not receive transportation to and from some of the events. I can confirm that despite our lack of resources, we have tried to attend to Miss Joubert's needs in every way possible," he said.
He refuted claims that she had to travel to and from events at her own expense stating that Cinea always provided transportation for her to attend events in her capacity as Miss Seychelles.
"With regards to her project, she had targeted the building situated at North East Point (next to the Rehab Centre) but we were unaware that the building had already been allocated to the Autism Society of Seychelles. We met the Ministry of Family Affairs and Ministry of Education to see how to proceed but nothing really materialised," Mr De Comarmond said.
He added that it is the duty of Miss Seychelles herself to use her influence and title to implement her project since Cinea only has a role as facilitator.
Seychelles NATION contacted Miss Joubert for her comments and she explained that she wrote the post because she was disappointed with Cinea.
"The post was not necessarily negative but I was voicing my disappointment at the lack of support for my project as it was one which was close to my heart. In the post I also expressed my gratitude to all who helped me to reach this far and who supported me throughout my reign," she said.
She recounts that once she was informed that the building she wanted to use for her project had already been allocated to the Autism Society of Seychelles, she sat down with the staff at Cinea to discuss the project and that it was decided that they would implement the project in schools rather than have a dedicated building.
"I have a daily job and whenever I need to go on official visits, Cinea needs to request permission through emails to my superiors but no further arrangements were made with regards to my project. I have addressed my disappointment to Cinea before but I felt as though it was not interested," she said.
Miss Joubert concluded by saying she enjoyed the experience at the Miss World contest but that she had wished she had more support from Cinea throughout her reign.
Cinea was mandated to organise and oversee the beauty pageant after it was transferred to it from the Seychelles Tourism Board (STB) in 2017.