Tanzanian squad officially deployed to Seychelles Prison Service
11-September-2018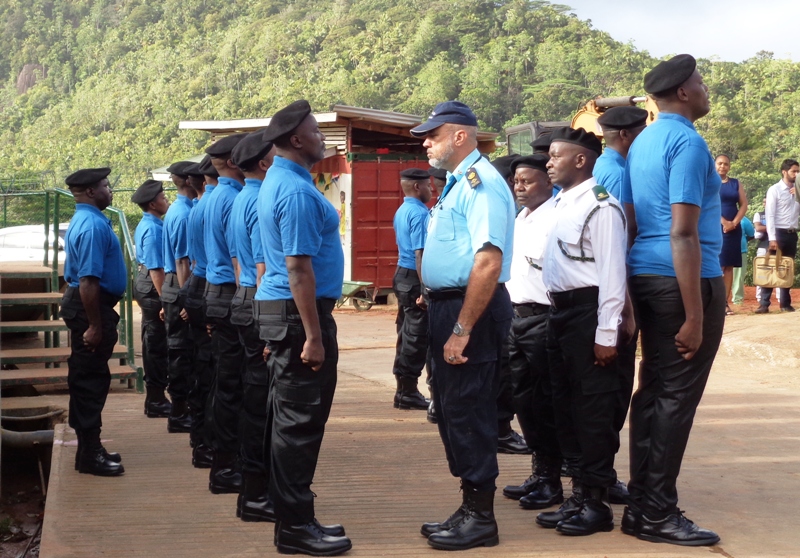 The Superintendent of Seychelles Prison Service, Raymond St Ange, yesterday   inspected and officially deployed a Tanzanian squad to the various residential units at the main prison complex at Montagne Posée.
"Today marks another important milestone for the Seychelles Prison Service as we welcome officers from the Tanzanian Prison Service.  Much work remains ahead for us as we work with commitment to improve what needs to be improved.  We can all appreciate that risks remain, however together and with focus and determination we can better arrive at our objectives," Supt. St Ange said.
The prison service has developed short to medium-term plans to address current operational issues that it is facing.  The plan in part addresses staffing and staff welfare, security upgrades, improving intelligence capabilities, continued improvement to facilities, as combined approaches to improve upon service delivery of the Seychelles Prison Service at its facilities.
Another important step to be taken will be a focused meeting to be held later this month with all religious entities that currently support the work of the prison service.  This meeting will refocus initiatives so as to better coordinate efforts that are being realised under Project Phoenix Rehabilitation.
The Seychelles Prison Service will continue to rely on the services of its Nepalese contingent who provide needed perimeter security support duties, one among many functions this dedicated team delivers.
The officers from the Tanzanian Prison Service will work alongside all staff in particular local staff, providing them mentoring support as well.