Ten graduated Seychellois doctors to contribute towards our health services
12-September-2018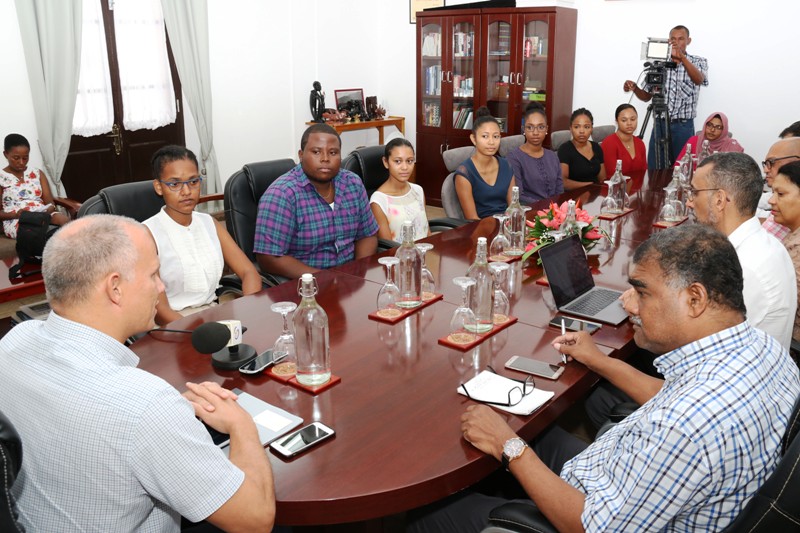 Health Minister Jean-Paul Adam yesterday welcomed ten young Seychellois doctors who have joined the Ministry of Health after completing their overseas training in general medicine.
The new doctors graduated this year after spending six to seven years of studies from different universities worldwide with some of them attaining very good academic performances.
The graduate doctors are Nelly Marie, Isha Barreau, Ingrid Barbe, Brigitte Lepathy, Rahim Lespoir (Cuba), Stephanie Mangroo, Vivianne Camille (Slovakia), Teresa Jack (Russia), Salma Farook (India) and Venessa Herminie (Czech Republic).
Also present to welcome the new doctors were the chief executive of the Health Care Agency, Dr Danny Louange and several other senior health officials.
Addressing the graduates, Minister Adam said that the Ministry of Health is very proud that every year it aims to increase the number of Seychellois doctors into its system and the arrival of the young doctors is fantastic news for Seychelles.
"We are very proud of you and I know also that a number of you have been star performers in your studies and this is something which is very good for the future of the medical profession in Seychelles. This gives all of you an opportunity to contribute towards the country and also gives the professionals that are here the chance to mould future specialists who can make a great contribution to our health service," Minister Adam added.
Minister Adam told them that they have come at the right time as the Ministry of Health is revamping its services and putting a lot of emphasis on new specialised programmes.
He added that, as young doctors, they are on the fast track for the specialisation programme and urged them to start thinking about their preferred areas of specialisation.  
Those coming from Cuba will enter into specialisation faster as a direct specialisation programme with the country is on offer. Others will have the opportunity within three years of working experience for further specialised training, mostly in South Africa and Reunion among other countries which the health ministry is still looking into as other avenues for training.     
Minister Adam also told them that Seychelles needed specialised doctors in all areas of the medical field, be it at hospital level and community-based as every common medical issues happening worldwide are also being experienced here.
"It is a very exciting moment for us at the ministry and we want to work with you to develop our health services to the highest standard possible as you form part of our strategy to bring the best health service to our population," Minister Adam said.
He noted that it is great to have them as professionals coming into our health system which will move the country towards a better quality of health care and most importantly give them the opportunity to further develop their career with specialisation.       
The new doctors, some of whom have started work with the ministry, will be rotated in different sections so as to better understand the functions of the health system.
Minister Adam said that the ministry is working on a remuneration package to attract the young doctors to stay and work in Seychelles rather than seek employment overseas.
Rahim Lespoir, who started his overseas training in 2011 and came out as the best overall student at Escuela Latino Americana de Medicina (ELAM), Cuba, said he was very happy to be back and is enthusiastically waiting to start working. He aspires to specialise in Urology.
"Doing medicine is not that easy but it is very interesting. I am somebody who always liked helping people and doing medicine will give me the chance to help people in the community," he said.
He described his study in Cuba as great, based on positive living values and good manners.
No female doctors were inclined to talk to the press.
Currently, there are 54 Seychellois doctors undergoing training overseas.