Swimming: African Championship 2018
13-September-2018
Soukup makes 200m freestyle final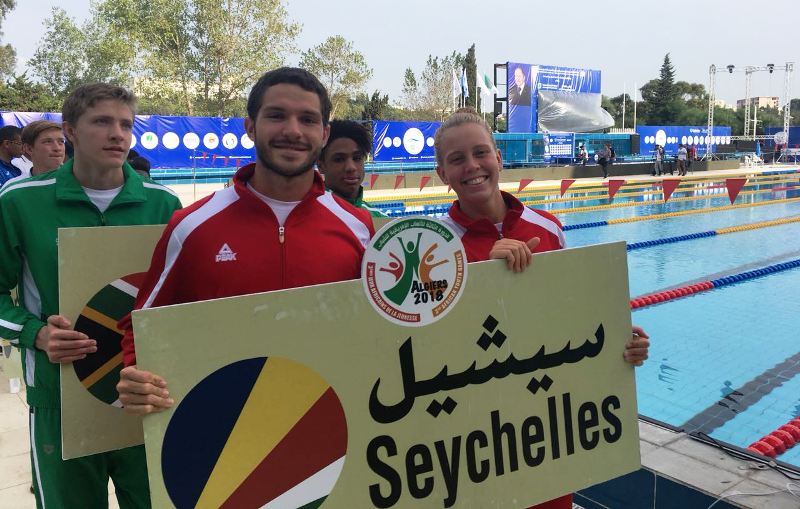 Seychellois swimmer Therese Soukup was unable to finish in the top three positions in the women's 200m freestyle at the ongoing African Swimming Championship in Algeria.
After qualifying in eighth and final qualifying place following the preliminaries with a time of 2 minutes 16.99 seconds (2:16.99) to qualify for the final, Soukup was unable to finish among the medals. She clocked 2:16.87 for an eighth place.
Egyptian Moro Hania dominated the final with a time of 2:04.46 followed by South Africans Whelan Jessica (2:06.14) and Coetzer Janie (2:07.08).
Soukup was again in action in the women's 100m freestyle and her time of 1:03.21 earned her 14th position.
Soukup will also take part in the 50m backstroke, 800m freestyle, 1500m freestyle and open water 5km races.
In the men's category, Dean Hoffman took part in the 200m freestyle and his finish time of 2:02.36 was good enough for ninth place, one position shy of a place in the final.
Victory went to Egyptian Samy Mohamed who set a new championship record with a time of 1:49.62 to wipe out the previous best of 1:49.62 held by Ahmed Mathlouithi from Tunisia.
Hoffman has also entered to swim the 100m freestyle, 400m freestyle, 50m freestyle and open water 5km.
Like Hoffman, Adam Moncherry failed to qualify for the 100m butterfly final. Moncherry was ranked 15th with a time of 1:01.56.
Once again, Samy Mohamed, who had lost to South African Alard Basson in the qualifiers, triumphed in the final with a time of 53.72 seconds to grab another gold medal.
Next up for Moncherry are the 100m freestyle, 50m butterfly and 50m freestyle.
The three swimmers are being accompanied by coach Guillaume Bachmann.
R. R.