Hindus celebrate Vinayagar Chaturthi festival
13-September-2018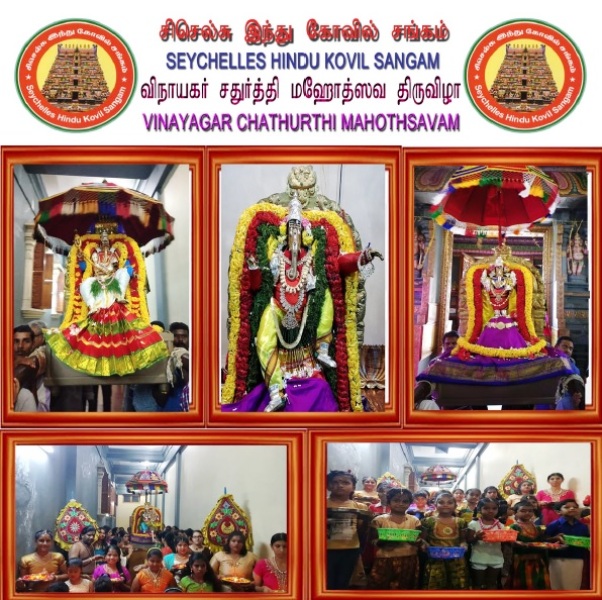 Once again the Seychelles Hindu Kovil Sangam is celebrating one of the most important festivals in the Hindu calendar -- the Vinayagar Chaturthi (the birthday of Lord Vinayagar) which falls today.
The festivities however started on September 3 and will end today.
Vinayagar is considered  as the foremost Lord in the Hindu religion, with symbol of good fortune, wisdom, prosperity and wealth.  He is also considered to remove all obstacles and thus is the reason why devotees worship him before starting any auspicious work.
Lord Vinayagar is blessed with 108 different names. He is the elder brother of Lord Murugan, whose festival of Thai Poosam and Kaavadi is celebrated in mid January-February of every year.
This year the Rajagopuram (tower of the temple) is enlightened with colourful lights and the portrait of Lord Vinayagar and Lord Murugan are mounted on both the sides. These have been a point of attraction at Quincy Street during the night times of the festival period.
Today at 10am as a part of this grand festival, theerthavari (bathing of the Lord Vinayagar idol) will take place at the Perseverance beach side. Following this, special prayers will be performed in the evening at the  temple and thereafter the Urchavar Sri Navasakthi Vinayagar will be mounted on a Mooshiga chariot, decorated with special florals and colourful lights and proceed for the grand procession in the streets surrounding the temple in Victoria.
The Seychelles Hindu Kovil Sangam invites all devotees and public in general to come and witness these auspicious activities and have the blessings of Lord Sri Navasakthi Vinayagar.