Perseverance inter-agency council meets residents
13-September-2018

Mr Frichot (standing in photo on the left) addressing the residents at the meeting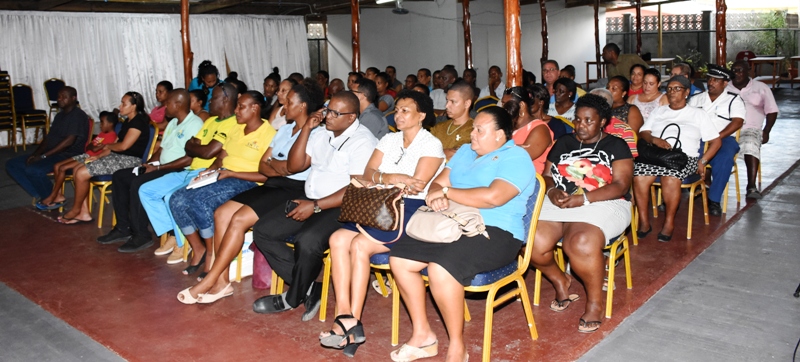 Residents of Perseverance were able to express their concerns and ideas in a public meeting organised by the Perseverance inter-agency council.
The council was set up in June this year and comprise representatives from the department of local government, Property Management Corporation (PMC), Ministry of Health, police force, Ministry of Family Affairs, Landscape and Waste Management Agency (LWMA), Ministry of Education, Seychelles Public Transport Corporation (SPTC), Ministry of Habitat, Infrastructure, Land Use and Transport (MHILT) and Seychelles Fire and Rescue Services Agency (SFRSA).
Its aim is to foster community engagement, spirit of good neighbourhood focusing on the effective and proper infrastructural and social development of Perseverance.
The chairman of the Perseverance inter-agency council, Dan Frichot, explained that because Perseverance is developing at a rapid pace and has reached more than half of its residency capacity, the council felt it was fit to meet with the residents for the first time since it was formed.
So far, 1135 houses have been constructed for Perseverance 1 and 2 which represents 67% of houses that are to be built in total.
In addition various other infrastructure have already been built including roads, bridges, schools and hospital.
However there are numerous other developments yet to be completed or started and these include police station, health centre, market, day care centres, community centre and sports complex among others.
"Since the council was established we have met and gathered information, and now we feel it is the appropriate time to meet the inhabitants of Perseverance to share information on what each agencies are working on as well as take note of their concerns and suggestions," Mr Frichot stated.
"It is important that we now take stock of the developments that have occurred so far as well as the future developments."
Each agency had the opportunity to present their work and services in the Perseverance community, after which the floor opened for queries from the residents.
Some residents were particularly concerned that the council has yet to do anything or at least demonstrate tangible results of their work to the community.
In a bid to create a sense of ownership in the community and communicate these results to the other residents, the council is also expected to include the participation of an elected resident representative in the future.
The council expects to meet with the residents again before the year ends.