Cable and Wireless supports autism and environment protection
13-September-2018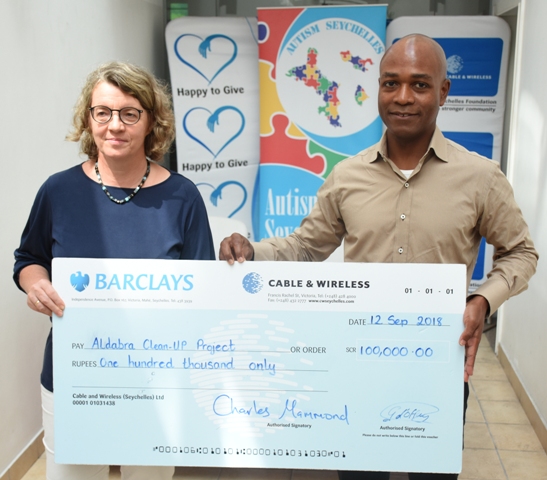 Mr Hammond handing over the cheques to Mrs Fleischer-Dogley (above) and Mrs Lavigne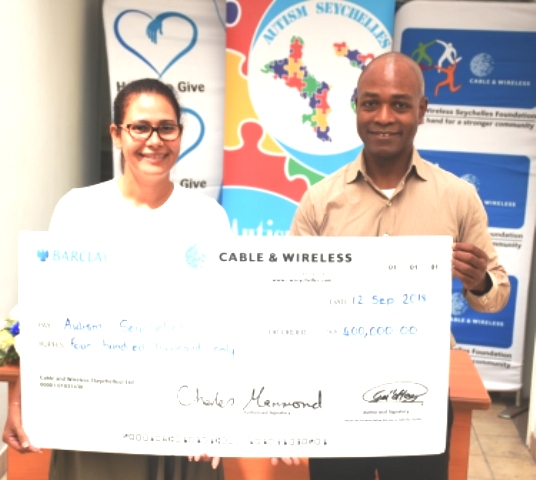 Telecommunications company Cable and Wireless will remain committed in its effort to make a positive impact on the community and environment protection, chief executive Charles Hammond has confirmed.
Mr Hammond made the statement yesterday, after presenting two cheques for a total amount of R500,000 to the Seychelles Islands Foundation (SIF) and Autism Seychelles, during a ceremony at the Sunshine House, at Providence.
Chief executive of SIF, Dr Frauke Fleischer-Dogley was handed a cheque worth R100,000 which will go towards the Aldabra Clean-Up project, a collaboration between the foundation and the University of Oxford, while chairperson of Autism Seychelles Lyn Lavigne was handed a cheque for R400,000 as a boost for the Autism Learning Centre project.
Mr Hammond said the company is very happy to be supporting two very important and noble causes, under the Cable and Wireless Foundation which is an extra arm of the company, aside of the ordinary donations.
He added that it is also a great honour to make a positive impact on the community and environment protection.
Mr Hammond further added that despite their different needs, both bodies have some commonalities, as they are both seeking for the necessary resources to realise their project with passion.
He also noted that the Aldabra clean up is important as it is a fight to protect the ocean and its ecosystem which is being mistreated and he gave his full support to the people who will be undertaking the task.
As for autism, Mr Hammond said it is an area of personal experience.
He commended Mrs Lavigne for her years of battle towards the wellbeing of kids with autism, as they need the right support for them to thrive and the perfect opportunities for them to flourish.
On behalf of the SIF, Dr Fleischer-Dogley thanked Cable and Wireless for the support as it is the first time that the foundation reaches out for corporate sponsorship.
She added that since marine debris is affecting the ocean globally, it is therefore not an issue which can be tackled by one organisation alone.
The project will bring together a team of six Seychellois volunteers with various backgrounds, along with six Oxford University scholars.
As a team, they will conduct an intensive clean-up expedition that will take place in March 2019.
As for Mrs Lavigne, she described Cable and Wireless' involvement with Autism Seychelles as a blessing.
She explained that since children grow up with autism throughout their lives as there is no cure, it is therefore imperative that we nurture, assist and give them the support with various services.
Mrs Lavigne added the partnership shows commitment and compassion.
Autism Spectrum Disorders is a life-long developmental disorder that affects how a person communicates with and relates to other people due to the abnormal development and functions of the brain. It has no known single cause and is more likely to affect boys than girls from all racial, ethnic and social groups.
The new centre, situated at the ex-Youth Residential Treatment Centre (YRTC) at North East Point will include a resource centre, learning classes and cubicles for children.
Autism Seychelles has since last year been actively looking for corporate sponsorship for the project.