Consumer education gets added boost
11-May-2012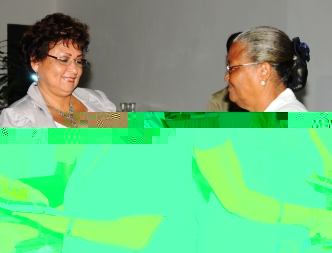 The manual, called a Teacher's Manual Methodology Guide, is a product of collaboration between the National Consumers' Forum (Natcof) and the Ministry of Education.
The manual, which stresses the importance of educating consumers, in this capacity targeting students from primary upwards, will equip teachers with appropriate teaching aid and will help them deliver the topic in a more comprehensive way.
The launching ceremony for the manual was held earlier this week at the ex-National Institute of Education auditorium in the presence of the Minister for Education Macsuzy Mondon, Ambassador Bernard Shamlaye, principal secretary for education Merida Delcy and principal secretary for social development Linda William-Melanie.
Natcof's chief executive Raymonde Course said the document is the work of a series of consultative meetings, training courses and workshops with education officials which started in 2009.
"We are aware that consumer education is already being taught and this manual will serve to re-enforce the capacities of our teachers," she said.
"The making of this manual is only a step, with the assistance of our local and international partners; Natcof plans to produce other educational resources to make easier the teaching of consumer education in schools."
She added that consumer education is a fundamental right and it serves to develop students' intelligence on issues relating to goods and services, empower them on how to use available resources effectively and increase their awareness with regard to their role in the society.
A copy of the manual was presented to Minister Mondon, as well as the principal curriculum, assessment and development officer at the Ministry of Education Egbert Benstrong.
All schools were presented with a copy of the document at the launching ceremony, as well as Lucy Athanasius of the University of Seychelles.

Addressing the guests, Mrs Delcy said consumer education addresses sustainable consumption, social justice, human rights, values and civil responsibilities.
"Consumer education, however, is not exclusively the role of Natcof and the Ministry of Education; we all have a role to play in our everyday practices, such as how a parent prepares a lunch box, how a student spends his pocket money, how utilities are used at home, to name a few," she said.
"In the national curriculum, consumer education allows students to develop the concept of economy and to understand how a market functions, on how, where, when and how to use what they buy."
There was also a video presentation on the history of consumer education in schools and a teacher and also member of the Natcof executive committee spoke about the importance of such a subject in schools.