Assembly finance committee members strengthen capacity
11-May-2012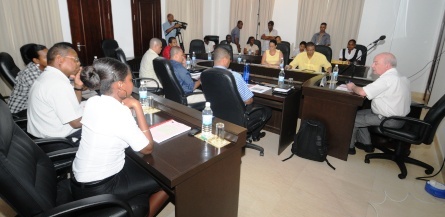 This is through a four-day workshop which started yesterday afternoon at the National Assembly at Ile Du Port.
The four-day training is being led by Bill Fraser, a specialist awarded by European Union to conduct a training need assessment for the FPAC.
Addressing the FPAC members, auditor general Marc Benstrong and representatives of the Ministry of Finance, Trade and Investment, the vice-chairperson of the FPAC, Charles De Commarmond, said the workshop initiated by the committee and its partners is very important to give members, especially the new ones, training on oversight.
"The training will give us the capacity and the necessary tools to better analyse the auditor general's report and other important documents. Hopefully after this workshop we, as members of the FPAC, will be able to deliver better for the benefit of the people we represent," said Mr De Commarmond.
Thanking all the partners who have helped to realise the training sessions, especially the European Union which is providing the help, Mr De Commarmond noted that it is also an opportunity for all partners and members to know their responsibilities and limits with regard to the committee.
Mr De Commarmond was speaking in the absence of FPAC chairperson David Pierre, the leader of the opposition in the National Assembly, who is on an overseas mission.
For his part, Mr Fraser said the FPAC or the financial scrutiny committee is the most important of all committees in a democratic institution simply because it oversees the management of public finances of the state and it does that on behalf of taxpayers and the people.
"The FPAC is representing taxpayers and the people of Seychelles and it is not representing political interests. Taxpayers need to know that the money they have contributed is being used properly for the people," he said.
Mr Fraser further added that the FPAC has the responsibility to hold the government to account for public money spent and this through the auditor general's report.
Mr Fraser, who has been in the country for four weeks now, has produced a guideline document which those taking part in the training will follow.
Among the various topics to be studied are the operational guidelines for managing the FPAC, roles and responsibilities in managing financial oversight committees, roles and responsibilities in pre and post-expenditure scrutiny, and understanding performance auditing.