Cabin staff urged to treat passengers as "special guests"
12-May-2012
Besides the congratulatory speeches, the graduation ceremony on Monday for this first cohort of 12 ladies and 6 men, had many other interesting highlights.
These included the screening of a video about Air Seychelles and Etihad Airways, featuring various scenes of both destinations.
Our pristine beaches, many hugged by huge granite boulders, the green mountains and the diverse islands contrasted with the sand dunes, the immensity of the desert, the falcons and new high-rise buildings - linked to the Middle East. There was the choice of hotels and holiday allure of both destinations.
There were also hilarious moments, such as the "Learning together" video, showing members of the cabin crew learning and in various funny postures. In some, they were ditching, in others pushing luggage, and often one another up the racks… after all, they were still learning!
Their six-week re-training involved going more in depth about air safety, including plane evacuation, fire fighting, service, style and etiquette.
"One point I feel is strongly positive about this Air Seychelles-Etihad partnership is the discipline," the general manager for Corporate Affairs, Alan Renaud, told Seychelles Nation.
"This is one of the factors bound to take us to higher levels."
The cabin crew feel better qualified now to serve on the new Air Seychelles, billed to become a "high class airline" and to serve the destination, which is likely to be a regional hub, Mr Morgan said on graduation of the first group of cabin staff on Monday.
Seychelles Nation and Seychelles Broadcasting Corporation crew had the occasion to observe some of the training. These were the second and third batches in class.
The second batch of boys and girls, already half-way through their course, were talking about beverages served on board aircraft. An airline, especially a high class one, will not serve just any spirit, wine or beer. The cabin crew are expected to know everything about what they serve, including their percentages of alcohol per volume. They are also expected to mix a good cocktail or shandy, as per the guest's request.
Idem for coffee or tea - cabin crew were learning about decaffeinated tea and coffee served on board. They were under the wing of Indian instructor Amrita.
The third cohort, who had just flown into Abu Dhabi Sunday, were already in class at the academy Monday with instructor Ling, from Malaysia.
They were being told about the various hair styles deemed acceptable on duty. These, for ladies, are French braids, buns, ponytails, fringes, African braids and also instructed about skin care and manicure. The young men and ladies are also trained in adopting the correct postures for walking, standing and sitting when on board.
There is also the issue of accessories worn. Too much jewellery is not on!
The first cohort, who graduated Monday, include some long serving Air Seychelles staff. Marc Waye Hive has probably served the longest, being with the airline since its infancy in 1983.
Barbara Zapf (nee Mouna) joined Ligne Aerienne Seychelles (LAS) a privately owned airline which operated from Seychelles to Singapore and Perth, Australia. After LAS folded up, Barbara joined Air Seychelles, serving faithfully to this day. Others include Kevin Laporte (17 years), Stella Denis (15 years) and Miana Stravens (14 years), who were all on the Air Seychelles flight from Mumbai 10 years ago when there was an attempted hijack by a knife-wielding passenger - quickly overpowered by the team!
Mike Payet, perhaps the most popular member of cabin staff, who has besides proven he can dance and make good speeches, has also been with Air Seychelles for many years. Mike said the group arrived in Abu Dhabi believing nobody could teach them anything. But they soon learned how wrong they were as the re-training brought them many new technicalities and skills, besides confidence, commitment and determination.
They all agree that despite a few problems of adaptation initially, the training has been in-depth, covering a wide range of features which will serve them in good stead when Air Seychelles takes delivery of its Airbus A-330 (not A320 as reported in Wednesday's article).
Each batch of cabin staff is made up of 18, while the fourth will be smaller. We also met four engineers – Andy Agricole, Thomas Alexis, Denys Assan and Steve Cole.
At present at the Etihad Academy are also 12 pilots, who had previously flown only on Boeing.
We shall be turning the spotlight on them next week.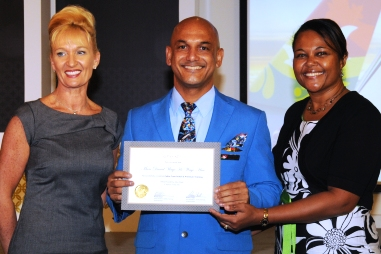 The second (above) and third cohorts during training
Text: John Lablache
Photos: Patrick Joubert