Hilton exec pledges to market Seychelles
12-May-2012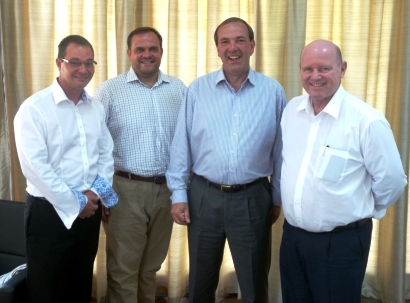 He said this when he called on officials of the Seychelles Tourism Board (STB) during his recent visit here.
The Hilton executive toured Hilton Worldwide's award-winning properties of Hilton Labriz Resort & Spa, the only hotel on Silhouette island, and Hilton Northolme Resort & Spa, located on Mahe.
He was accompanied on the tour by Tourism & Culture Minister Alain St Ange.
Hilton Worldwide has enjoyed a presence in the Seychelles for six years and is firmly committed to supporting tourism to the islands.
"The Hilton brand name is one of the most recognised in the world and we are dedicated to supporting not only our hotels, but the areas and regions which they serve," said Mr Van Der Putten.
He added that "Seychelles is an important and growing region for us and we will do what we can to help and collaborate with the government in promoting the islands to overseas markets."
Minister St Ange noted that "Hilton Worldwide are great advocates for Seychelles, and we welcome and applaud their all-embracing efforts in helping to attract greater numbers of tourists and in generating global interest in the islands".
As well as a series of comprehensive source market PR and marketing programmes, Hilton Worldwide hotels are also regularly promoted to the 30 million Hilton HHonors members around the world. Hilton HHonors is one of the largest and most successful hotel loyalty programmes in the hospitality industry.