Partners in Learning Seychelles Forum-Three teachers to represent Seychelles in international forum
14-May-2012
Their projects were judged as the most outstanding from all the others who took part in the Partners in Learning (PiL) Seychelles forum which was officially opened Friday morning by the principal secretary for education Merida Delcy.
Natalie Duval's project entitled Piracy: historical past, present threat, future impact – was judged as the best.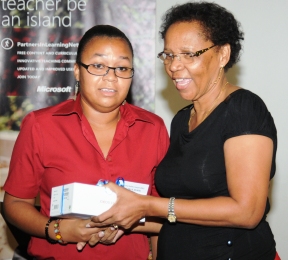 She was presented with her certificate and prizes during an award ceremony organised on Friday afternoon at the School of Education.
Miss Duval, a teacher from Beau Vallon secondary school, said the students were very helpful and came up with great ideas for the project.
She added that the topic was of great interest to her as piracy is a serious problem affecting Seychelles, and through her project she wanted to bring more awareness on the issue.
Lynn Albert and Elvina Brutus from Anse Aux Pins primary school received the second prize with their project entitled 'Introducing numbers through creative activities'.
'The Prevention of teenage pregnancy' project by Marie-Chantale Nicole from Beau Vallon secondary school was the third most outstanding project.
All projects were showcased and a panel of judges decided on the best ones.
All teachers who took part in the PiL forum received their certificates. Several teachers were awarded after excelling in the different categories.
Myra Maria, Christelle Jacques and Lindy Camille from Anse Etoile primary school were the best in the category of collaboration.
Their projects show evidence that the learning activities require students to work with other people, sharing responsibilities while making important decisions or find answers to complex questions when collaborating with their peers in the classrooms, or with students or adults outside.
Asunta Julienne and Latifa Joseph from Plaisance primary school were ranked top in the category whereby those taking part had to show the use of information communication technology for learning.
Miss Duval won the award for the project which showed the most evidence that learning activities provided students with the chance to work with minimal supervision, which allowed them to plan their own work and monitor its quality.
Her project also won the award for knowledge building and critical thinking.
Miss Nicole's was judged best in the category for extending beyond the classroom.
In the teacher as the innovator and change agent, the award went to Miss Albert and Miss Brutus.
Tracy Constance from Plaisance secondary school won the judges' award for the project which has shown great potential in all categories.
The special award for the school with outstanding performance and contribution in the PiL programme went to Plaisance primary school.