Recycling in state schools
14-May-2012
With the emphasis put on varying in teaching strategies and approaches to meet pupils' needs, teachers are really finding innovative ways to achieve this within their mandate.
Moreover, as environment education is also well embedded in the state schools, it should be noted that the schools are aware of the impacts that many man made products may have on our environment and this is when the 3 'R's comes into practise.
The 3 'R's are really simple they may be considered as the ABC of adopting a friendly environmental approach towards waste management and easy to put into practice once they have been well mastered.
What are the 3 'R's?
1. Reducing the amount of waste being produced everyday is the best way to help keep the environment clean. There are lots of ways to do this. For example:
• Instead of buying something you are not going to use very often, see if you can borrow it from someone you know.
• Cars use up energy and cause pollution. Some ways to reduce the environmental damage caused by cars include carpooling with friends, walking, taking the bus, or riding the bicycle (like most Diguois do) instead of driving.
• Start a compost bin. Some people set aside a place in their yard where they can dispose of certain food and plant materials. Over time, the materials will break down through a natural process called decomposition. The compost is good for the soil in the garden. As a result less litter/waste materials will go to the landfill at Providence.
• With the emphasis put on the use of technology in workplace, try to send emails/memos/newsletters or other information online rather than printing them on paper. Print whatever is important for documentation purposes.
• Turning off the lights and other electrical appliances helps to save energy.

2. Reusing things instead of throwing them away is one of the other ways to help us save more money. For example:
• Carry cloth sacks that are being used by most people in Seychelles nowadays in a personal bag. This could be used for storing things instead of taking home new papers or plastic bags. These sacks can be used many times and this helps in saving some trees.
• Coffee cans, shoe boxes, margarine containers, and other types of containers people throw away can be used to store things or can become fun arts and crafts projects.
• Clothes, toys, furniture, and other things that are not needed anymore should not be thrown away. Somebody else can probably use them. Make a noble gesture by bringing them to a center that collects donations or give them to friends or even have a sale in your garden like most people do in other countries.
• Using all writing paper on both sides helps to reduce on paper wastage
• Using paper bags/newspapers/used gift wraps to make book covers are better rather than buying new ones.
3. Many of the things which are used in every day life, like paper bags, soda cans, milk cartons, and pet bottles, are made out of materials that can be recycled. Recycled items are put through a process that makes it possible to create new materials out of the old ones. In addition to recycling the things that are brought, this helps the environment by buying products that contain recycled materials. Many brands of paper towels, garbage bags, greeting cards, and toilet paper are made from recycled materials and are usually indicated within their label. With the new initiative of glass recycling being launched by Sustainability for Seychelles, this will help create an environment which is safe so that children and adults are not injured by the broken glasses lying around in the environment. Very important to wash and leave the bottles to dry before throwing them in the glass recycling bins.
How are the 3'R's being practised in the state schools?
Teachers are recycling materials to be used in making of charts, models, mobiles and other educational tools or displays, which are less cost effective than buying them from shops.
The way they design the educational resources to be used in teaching and learning is very interesting that the children, staff of the school and other visitors are really amazed by the creativity that lies within the other abilities of the teachers.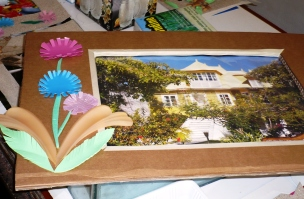 Questions are asked when do they find time to design these resources and above all the other work load they have to attend to in the school they get a thumbs up for making it in time to complete the resources.
With models such as water treatment plant made from pet bottles, recycled plastic pipes and pieces of wood and a natural habitat of birds with the use of crafted birds made from recycled papers/cardboards or pictures of the birds from magazines and dry weeds or plants from the environment that have been coloured really makes an unforgettable experience for the pupils.
Some teachers are even designing educational games from these recycled materials and they are even reusing plastic containers to store materials such as pencils, crayons and bottle tops used as counters. Furthermore, teachers are even having special corners in class for reading, relaxing, playing and even to develop pupils' skills in calculations within the shopping corner.
These corners are less cost effective, this is because teachers will reuse or recycle things from their environment for display such as spoiled telephones or toys. It really makes an impact in the learning of pupils since they have other options of exploring the topic/concept at hand within the concrete examples.
Moreover, with the emphasis being put on maintaining a clean and attractive school environment, some schools are really making an effort in providing a conducive environment for all. Schools are even using off cuts, palettes or other used pieces of woods to make their own benches.
Dead leaves, skins from vegetables and fruits, grass and other materials that are biodegradable are used for compost on school ground. In addition to this, tyres, scraps of metals from spoiled chairs, sodepak bottles, and empty tins of powdered milk are even used for planting.
There are other creative craft work found on school compound and it is one of the major attractions for many foreign visitors who visit the school after attending an environment workshop/even those on holidays.
This is why the schools really need the support of many partners in the community to help bring more positive achievements towards making the school a place which is fun to learn.
It is a matter for all to have a special time on their schedule apart from being attached to the same routine in the offices/at home and move out to the schools to view the hard work. In the end all of us are benefited within these successes, after all we are working for our country's development and most of all pleasing God within our noble gestures.
Many environment activists such as the Ministry of Education, Wildlife Club of Seychelles, Sustainability for Seychelles and others are really making an impact through the materials they publicise on waste management and once you get to read them you will have a guide of how to manage your waste effectively, just like the schools and other small businesses.
Contributed by Environmental Education Unit, Ministry of Education