Family laws to be modernised
14-May-2012
The project aims to identify weaknesses and loopholes in the law, as well as their implementation, so as to be able to suggest amendments to effective enforcement of family rights.
It will also make available information on family laws, rights and responsibilities.
A session was held on Saturday at the International Conference Centre, where a number of stakeholders were working toward this end.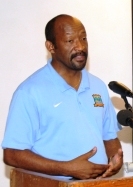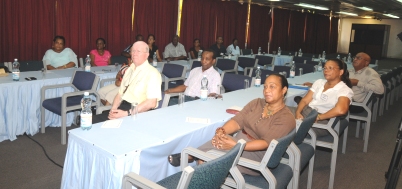 Minister Meriton addressing the gathering at the working session on Saturday
Present were the Minister for Social Affairs, Community Development and Sports Vincent Meriton, principal secretary for Social Development Linda William-Melanie, the chairman of the Liaison Unit for Non Governmental Organisations in Seychelles Bernard Elizabeth and the Catholic bishop Denis Wiehe.
The project is being led by the Alliance for the Promotion of Solid Humane Families (APSHF) in collaboration with consultants Nichole Tirant-Gerardhi and Wilby Lucas.
The APSHF chief executive Rosy Denis said their association recognises that civil society has a major role to play in development issues as well as accessing funds to address such needs.
"We also recognise that the government cannot address all issues on its own, therefore it is our aim to work in full partnership with the government and we stress the need for cooperation from all government department and agencies concerned."
Mrs Tirant-Gerardhi said from the recommendations gathered in Saturday's workshop, a final report will be prepared, which will be validated in a final workshop to be held this year.

And after all the legal implications and papers have been collected, everything will be put in a document, which will be simplified for understanding by the wider audience.