Seychelles-EU trade ties gets big boost
14-May-2012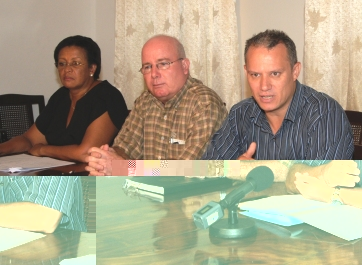 The agreement, negotiated between the EU and Eastern and Southern Africa (ESA), was signed in 2009 by Seychelles, Mauritius, Madagascar and Zimbabwe and is the first of its kind to be implemented in Africa.
The interim agreement is a continuation of the Cotonou Accord, which replaced the Lome convention linking the EU to the ACP (African, Caribbean and Pacific) states.
Seychelles' exports to the EU totalled just over 3 billion euros last year. The bulk was canned tuna, which alone was worth 2.9 billion euros, followed by fresh and frozen fish at 16.5 million euros.
Other lesser exports were medical appliances (manufactured by Shell Medical), live tortoises, coco de mer, rum and cinnamon bark.
European exports to the countries concerned comprised mainly of machinery, vehicles, pharmaceutical products and chemicals.
Mr Adam however noted that Seychelles retains tariffs on its list of about 20 sensitive products, for environmental and socio-economic reasons. These include motor vehicles, alcohol and cigarettes.
Explaining the interim agreement which comes into effect today, Foreign Affairs Minister Jean-Paul Adam said it establishes a stable and predictable framework for trade between Seychelles and the EU.
He noted that the agreement is open to other ESA countries and a full partnership agreement could be reached in the future.
One reason he said other states of the region have not joined the negotiations with the EU to date is that they have different economies and exports.
Most of them also fall into the category of Least Developed Countries, which guarantees them a 0% tariff in the EU for their exports.
Mr Adam said the Cotonou accord was challenged by the World Trade Organisation (WTO) compelling the countries involved to enter into recriprocal agreements with their trading partners.
"The agreement has no time frame. It is indefinite," he said, adding that the situation could evolve with more developing countries joining.
Germaine Michaud, secretary of the Seychelles Chamber of Commerce and Industry (SCCI), who was also involved in the negotiations with the EU, said the agreement encourages development of new products.
She said the EU is prepared to assist entrepreneurs improve their packaging and export as value-added items, thereby earning more revenue.
Rum is an example of raw materials being imported from other countries in the region to produce a high quality product.
Charles Morin, negotiator for economic partnerships, said the Sensitive List has been drawn up after consultations with various stakeholders, such as the agricultural sector and the Small Enterprises Promotion Agency (Senpa).
He noted that a R5 levy on every kg of imported broiler chicken has been retained, at the request of local farmers.
Mr Morin added that the Department of Trade, along with other partners, will be organising various workshops to further explain the details of this agreement to all stakeholders so that the local production sector fully understands the opportunities available to them.