Police units get new vehicles
16-May-2012
Funding from the United Kingdom government, contributed to the United Nations Office on Drugs and Crime (UNODC) counter-piracy programme (CPP), has been used to purchase the new vehicles.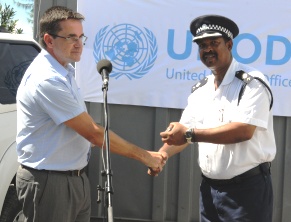 British high commissioner Matthew Forbes officially handed over the keys to the vehicles to the chief of operations, chief superintendent Philippe Cecile, yesterday at the ex-coast guard premises.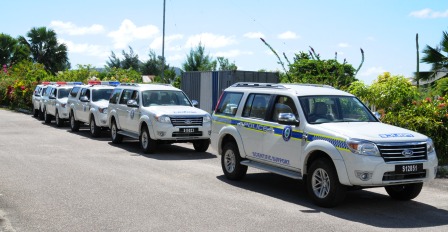 The vehicles -- three Ford Ranger Double cab pickup and two Ford Ranger station wagons -- were bought due to a shortage in the police vehicle fleet and to help reduce the number of hired cars used.
The new vehicles are equipped with emergency lights, sirens and public address systems which will enable the police to react quickly to crime and ensure that they are visible at all times.
Present at the hand-over were UNODC representative for the counter piracy programme Bruce Bursik and police officers.
Mr Bursik said the donation is a small part of the support by the international community.
He added that two new mini vans will be handed over to police department soon.
Mr Forbes said the modernisation of the police here is vital for the prosperity of Seychelles.
"The issue of proper police equipment is important but training, strategy and motivation are also key," he said.
He added that the new initiatives being developed in the police now will hopefully see it emerge into a modern, professional force well equipped to tackle the increasing challenges that it will face in the coming years.
The funding for the new vehicles is part of a wider effort by the British high commission and the UNODC to build capacity and capability of the Seychelles Police, prison, coastguard, Attorney General's office and Judiciary to help in the active fight against piracy.
On behalf of the Seychelles Police, he thanked the British government and UNODC for the donation which he assured them will be put to good use.
In a press release, chief superintendent Cecile said the new vehicles show the very good cooperation and relations which exist between our foreign partners, such as the British government and UNODC.
"The vehicles have come at a most opportune time when the police is stepping up its effort to render a better service to the people of Seychelles and for that we are extremely grateful," he said.