EU forces in first onshore raid in Somalia
16-May-2012
The move was in line with proposals made during talks at the recent London Conference on Somalia in which Seychelles played a central role.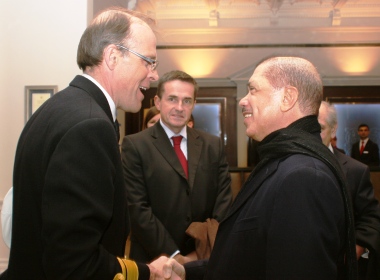 After the raid, British high commissioner to Seychelles, Matthew Forbes – who accompanied President James Michel at the meeting – welcomed the action saying it will "further increase the pressure on, and disrupt pirates' efforts to get out to sea and attack merchant shipping.
"This shows the determination of the international community to tackle the scourge of piracy off the coast of Somalia.
"Seychelles will be further pleased to note that their world leading efforts in the fight against piracy are being supported by this military action to target pirate logistics dumps on the coastline in Somalia."
President Michel and Mr Forbes met the operation's commander, Rear Admiral Duncan Potts of EU Naval Force.
Yesterday's operation was supported by Somalia's Transitional Federal Government and took place near the Indian Ocean port of Harardhere, eastern Somalia.
A storage depot for "supplies and equipment" used by pirates was attacked by EU Naval Force helicopters.
"The focused, precise and proportionate action was conducted from the air and all forces returned safely to EU warships on completion," an EU NAVFOR spokesman said. "Whilst assessment is on-going, surveillance of the area during the action indicates that no Somalis were injured ashore as a result of European Union action."
Commander Potts said:
"We believe this action by the EU Naval Force will further increase the pressure on, and disrupt pirates' efforts to get out to sea to attack merchant shipping and dhows. The local Somali people and fishermen – many of whom have suffered so much because of piracy in the region, can be reassured that our focus was on known pirate supplies and will remain so in the future."
"The EU Naval Force action against pirate supplies on the shoreline is merely an extension of the disruption actions carried out against pirate ships at sea, and Operation Atalanta remains committed to fighting piracy off the Horn of Africa and the humanitarian mission of protecting World Food Programme ships that bring vital aid to the Somali people."
There are nine warships in the EU Naval Force and five Maritime Patrol aircraft protecting shipping in the Gulf of Aden and Indian Ocean. The Council of the EU voted on March 23 to allow EU NAVFOR assets to bombard onshore targets in a bid to disrupt pirate supply lines.