New measures to stop abuse of casualty service
18-May-2012
The measures were announced yesterday during an interview with the media at the Sheikh Khalifa's Diagnostic Centre.
The Ministry of Health is working in close collaboration with the police to take appropriate actions against people who continue to abuse the health services.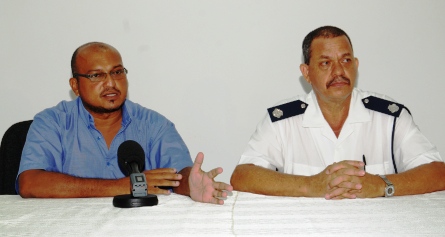 Dr Kenneth Henriette, who is in charge of the accident and emergency unit, and Superintendent Jean-Paul Ernesta representing the Seychelles Police gave out the interviews.
Among the measures being taken by the ministry is the installation of cameras at the Casualty unit to monitor and record any excessive misbehaviour by members of the public.
Dr Henriette said the security system at the Seychelles Hospital is being boost up, adding that a recording system will be in place to help remedy these problems.
The abuse-related cases at the accident and emergency unit include non-urgent situations whereby members of the public request for ambulance services in circumstances not considered as emergencies. There are also physical or verbal abuses against staff on duty at the unit.
Emergency cases are circumstances when a patient's life is considered to be at risk – medical conditions like heart attack and asthma cases.
Dr Henriette said a lot of patients with non-emergency cases expect to be treated immediately. He explained that because the casualty does not operate on a first come first serve basis, members of the public become frustrated and this is when they physically or verbally abuse the medical staff.
He said some of these problems arise because members of the public are not aware that there is a triage system in place at the casualty which classifies patients into categories – from urgent to the less urgent cases.
Triage is the process of determining the order of priority patients receive treatment based on the severity of their condition.
"We go about reviewing the vital signs of patients and these include blood pressure, respiratory and heart rate. According to these signs we decide to give priority to patients – from emergency to non-urgent cases," he said.
Dr Henriette added that there is a need to bring more awareness on this system and remind the public repeatedly that it exists and that the unit should be used appropriately.
Superintendent Ernesta said when these incidents happen at the casualty, the police are informed and necessary actions are taken.
He said the police are taking these abuse-related cases at the Seychelles Hospital seriously as there should always be peace and order at a hospital.
He called on other police officers to attend to the medical staff who call for help and not to find excuses such as there are no patrol vehicles or officers.