Drive to make it easier to do business sees progress
18-May-2012
Mr Laporte – who is also the Minister for Finance, Trade and Investment – said this in an interview after the forum held its fifth weekly meeting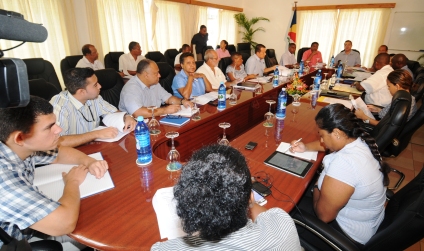 Invited to yesterday's meeting was Vice-President Danny Faure, who chairs a higher level economic committee.
Mr Faure commended the efforts of the technical people seeking to raise Seychelles from the dismal global 103 out of 183 position to an aspired position 15.
This year's World Bank/International Finance Corporation report on ease of doing business has pushed Seychelles up six positions from last year's rank 109, in a chart where Singapore is the first among 183 economies.
The report says a high rank on the ease of doing business index means the regulatory environment is more conducive to the starting and operation of a local firm.
On ease of starting a business, Seychelles has been ranked 113th; obtaining a construction permit, 54th; getting electricity 149th; registering property 63rd; getting credit 166th; protecting investors 65th – a poorer rank than last year's rank 60; paying taxes, 16th – a much better rank than last year's rank 56; trading across borders remained at position 33 while enforcing contracts is harder this year and has been ranked 84th from 67th. We continue to hold the poorest position possible, rank 183 where resolving insolvency is concerned, as a commercial court is awaited.
Mauritius which holds position 23 is the best country for doing business in Africa.
Mr Laporte said the people at the forum represent his ministry, registrar of companies, the planning authority, the Seychelles Investment Bureau, licensing and immigration officials.
He said the forum is trying to ensure that the series of activities that need to support the launch and running of businesses need to work together to make the country private-sector friendly.
He said the committee chaired by Mr Faure is more of a decision-making body where key decisions are taken in preparation to submit issues to the cabinet of ministers while the one he heads is a technical forum where members are allocated tasks and are expected to make things happen.
"We have made progress because all decisions are clearer with regard to what is expected of the various sections. Very soon we will see fruits of these actions," said Mr Laporte.
"For example very soon there will be online registration of companies, online access to land registries while there will be very clear guidelines for the immigration issues to do with the private sector."
"We have had many cases where the licensing authority says 'this business can be done by a foreigner' and given a licence but immigration says 'sorry we think this business should be reserved for Seychellois'.
"We are clarifying it is not for immigration to decide," he said, noting there is an authority that makes decisions that are approved by cabinet regarding what is for Seychellois only and what is not, "so when it comes to immigration they only focus on the character of the people through police checks, checking overseas if that person is of good character. This eliminates overlap and confusion as the person runs from one authority to another".
Mr Laporte said the change to remove government from business to allow in the private sector has been done to a large extent except with regard to some organisations where it has been delayed "for strategic reasons" but what needs to be done is to improve the environment to do business for the private sector to better drive the economy.