Strong Seychelles can stand on its own, says bank
21-May-2012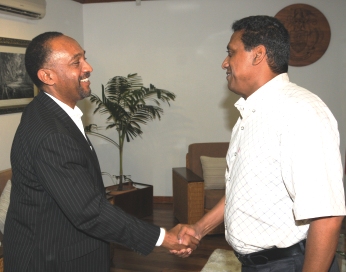 The AfDB's regional director Gabriel Negatu said this at State House on Friday afternoon after calling on Vice-President Danny Faure.
He said the country's revenue inflow is good so "Seychelles may not even need to borrow because the country's economic management is very much in the right direction".
"Earnings from tourism and fisheries are quite robust and the government of Seychelles is very prudent in whether it decides to borrow or not," he said.
Out of the 12 eastern African countries the bank caters for, only Seychelles is eligible to borrow from the bank according to the AfDB website.
Mr Negatu said this is because we are the only middle income country in the group, which also has Burundi, Comoros, Djibouti, Eritrea, Ethiopia, Kenya, Rwanda, Somalia, Sudan, Tanzania, and Uganda.
We do not qualify for concessional loans because of our status, he said, adding we cannot, of course, wish to go backwards to qualify.
He said talks with Mr Faure centred around our successful reforms, noting the AfDB has been a partner in the process.
"There are many benefits that Seychelles has realised as a result of these reforms and we also talked about some of the second generation activities needed to sustain the benefits and the bank pledged its commitment to support the reforms."
He also briefed Mr Faure about the opening of the bank's regional centre in Nairobi from where the 12 countries will be served rather than from Tunis as was the case before.
"We also offered the other products and services besides lending that can be made available to Seychelles," he said, naming them as grants, doing analytical work that helps the government to make informed decisions and capacity building.
Earlier on Friday morning, Mr Negatu gave a presentation telling key people -- including the Minister for Finance, Trade and Investment Pierre Laporte and principal secretary in the ministry Steve Fanny -- about the new centre which is based in Nairobi.
He also met Mr Laporte and the Minister for Natural Resources and Industry Peter Sinon and other government officials to discuss the countries' priorities with regards to future projects with the bank.