Top Chinese firm looks to support development
22-May-2012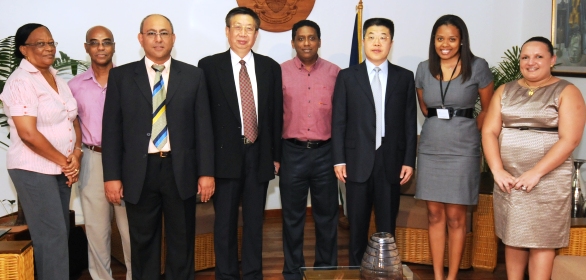 Vice-president Jack Hu of the company – the China National Aero Technology Import And Export Corporation (Catic) – called on Vice-President Danny Faure at State House yesterday as he led his three-strong high level delegation.
With Mr Faure was chief executive Sherin Renaud of the Seychelles Investment Bureau who led her team of three from her organisation at the talks.
Catic hopes to be involved in the upgrading of the Public Utilities Corporation 33 kV power distribution network when ongoing feasility studies are completed, and the Grand Anse dam project if and when it is launched.
The delegation, who is also involved in talks with the Seychelles Civil Aviation Authority and the Seychelles Ports Authority, said it is also looking at ways of supporting the public transport system.
"We are looking at how Seychelles can make use of Chinese soft loans to finance the projects," said Mr Jack.
He said Catic has been involved in developing public transport systems in Africa and would like to do likewise here, building on the excellent relations between China and Seychelles.