Mancham in high-level talks in Cairo
23-May-2012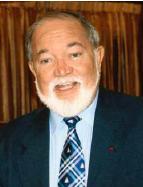 Mr Mancham is in Egypt at the invitation of the chairperson of the AU Commission, Jean Ping, to witness the Presidential election which is to take place there today and tomorrow.
Mr Mancham is being assisted in this mission by Shumbana Karume, head of Democracy and Elections Assistant Unit of the African Union Political Affairs Department, based in Addis Ababa, and Conrad Mederic, who is serving in the Office of Principal Counselor in the Seychelles high commission in Pretoria, South Africa.
On Monday, Mr Mancham's schedule included briefing from the Permanent Delegation of the AU to the League of Arab States, under the leadership of the Libyan Ambassador Muftah Zawam, and other Rrpresentatives of the AU based in Cairo.
This was followed by briefings by representatives of the Committee of the Elders of Comesa, led by Ambassador Soad Shalaby, and discussions were later held with Dr Amani El Tawil, of the Al Arham Center for Political and Strategic Studies.
The most important meeting of the day was with the current Minister for Foreign Affairs of Egypt, Mohamed Kamel Amr, at the Minister's Office were he was assisted by a selection of personalities associated with the coming elections.
Yesterday's schedule of engagements included meetings with Mohamed Fayek, Acting President of the National Council for Human Rights of Egypt, and different meetings with international observer groups invited to observe the elections.
In this context, Mr Mancham and his entourage were expected to meet former US President Jimmy Carter and his delegation representing the Carter Center; the former President of the Republic of Mauritius, Cassam Uteem, who is leading the delegation of the African based organisation EISA; and the representatives of the League of Arab States.
Meetings were also held with the High Presidential Elections Committee as well as the UN Mission Election Team.
The election starts today and will close late tomorrow in the evening. During that period, Mr Mancham and his group have been officially authorised to visit any polling station of their choice and witness the election in progress.
It is to be noted that a second round of elections will take place on June 16-17, 2012 in the event that there is no outright winner in this first round.
In a statement issued from his hotel in Cairo, Mr Mancham, said: "Egypt appears to be going through a period of calm and serious reflections. In Cairo, there is an atmosphere of great serenity as the people in the capital make their minds for whom to vote.
"There have been a series of televised debates on the television and radio networks concerning the policies of the 13 contenders. My delegation and myself considers ourselves privileged to have the opportunity to witness this vital development in the search by the people of Egypt for democratic changes and good leadership governance."