Finance minister continues familiarisation tours
23-May-2012
Yesterday the minister, accompanied by his principal secretary Steve Fanny and special advisor Ronald Cafrine, toured the Fair Trading Commission (FTC) and the Seychelles Petroleum Company (Sepec).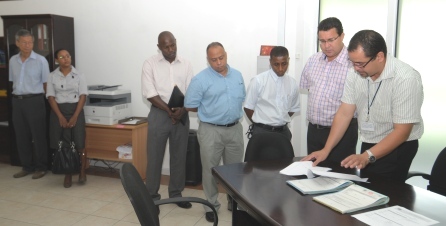 At the FTC, based at Orion Mall, they visited the offices, were introduced to the staff, and learned about the commission's mandate and acts which govern it. These include the Fair Trading Commission Act and the Consumer Protection Act.
Mr Laporte said the visit enabled him to learn more about the commission and better understand its roles.
"The Ministry of Finance, as the parent ministry, is continually seeking to guide this institution, especially in terms of policies and other support. It is important that although the commission has the mandate to take some decisions on its own, the ministry is always there to give it directions where necessary," he said.
From FTC, the delegation visited Sepec, where a detailed meeting was held with its chief executive Conrad Benoiton and senior managers of the company.
Each manager explained how their department works and how they are all linked together for the smooth running of the company.
Mr Laporte said Sepec has a very important role to play in the country's economy as a lot of operations are connected directly to it and that there is a lot of misconceptions about the company.
"The government does not subsidise Sepec, but the company does subsidise some of the products and services it offers, but with time this is seen as no longer sustainable," he said.
"It is important for any company – even parastatals – to at least break even or have a small profit margin to be able to continue to operate and this applies to Sepec as well."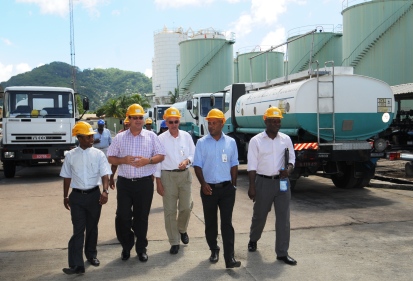 The delegation were also taken on a tour of the facilities, which included Sepec's storage areas for the different types of fuel it imported.