Bel Air community donates to Bel Eau school
24-May-2012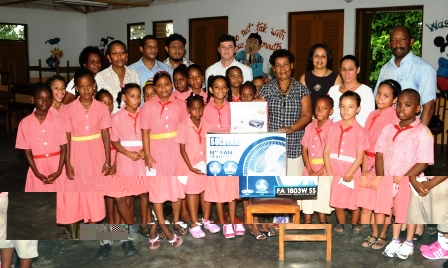 The donation from the Bel Air community demonstrated the close collaboration between Bel Eau school and the district authorities as well as the business community who were responding to a request for help by the school to improve its environment and make it more conducive to learning.
Among those present at the short ceremony during the school assembly on Monday were the Minister for Social Affairs, Community Development and Sports, Vincent Meriton; the member of the National Assembly for Bel Air, Nichole Barbe; district administrator Denise Dufresne; the chairman of the School Council, Giorgie Belmont; and members of the Parent-Teacher Association.
Speaking at the ceremony, Mr Belmont stressed on the importance for the community to work closely with the school and called on the students to be guardians of everything being put at their disposal.
Ms Barbe said the donation would contribute to make the school environment more conducive to learning and appealed to the business community in the district to be mindful that helping with the education and upbringing of a child today can turn him or her into a better citizen who will work hard and contribute to the country's economy.
In return the Bel Eau school head teacher, Susan Charles, presented certificates of appreciation to those who have contributed towards the donation. These were the Bel Air district administration and the Children's Fund for the fans and projector and Mahe Design and Build for renovating the school's playground.