Football-Waye-Hive hopes to sign second Molesey contract
24-May-2012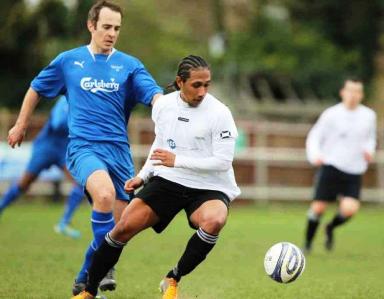 Waye-Hive made a move back to England last year following a triumphant 2011 season with local club St Michel winning all the silverware on offer and also winning the gold medal with the Seychelles national team at the 8th Indian Ocean Island Games on home soil.
Once in England, Waye-Hive joined his ex-team Merstham FC for whom he played for during two seasons (2008 to 2010), but could not make it out of the reserve team. It was during the winter transfer season that he moved to Molesey where he played only one match with the reserve team and was promoted to the first team. He has been a regular for Molesey's elite team ever since, playing 16 matches and scoring one goal. Molesey finished fifth in the league.
Waye-Hive, who is presently here on holiday, told Sports Nation he will extend his two-month break prior to the start of pre-season training as he has been called to the national selection who will play the Democratic Republic of Congo on June 17 in the away leg of the first round qualifier for the 2013 African Cup of Nations. Seychelles lost the first leg 0-4 at Stad Linite on Wednesday February 29, 2012.
He will be also part of the Seychelles team who will be taking part in the Council of Southern Africa Football Associations (Cosafa) Senior Challenge Cup slated for Malawi from July 21 to August 4.
Waye-Hive added that when the new season starts he will work harder with the Molesey team to up his level of play as he hopes to go on trials and play for a professional club in the near future.
R. D.