Fast ferry Isle of Praslin marks five years of service
26-May-2012

First class passengers also received a corsages each.
The boat's proud owner, Joe Albert, was at the inter-island terminal to thank the crew and passengers for their support.
He noted that Inter-island Boats, which has a smaller catamaran -- Isle of La Digue -- links the three main islands daily, priding itself on punctuality.
It presently employs some 100 staff, entirely Seychellois. These include four skippers, four engineers, botswains, hostesses, barmen and sales staff.
He claimed that his staff are among the best paid in the country, benefitting from an additional month's salary each December and a bonus, paid for from the profits.
Mr Albert noted that recent hikes in diesel costs had compelled the company to increase fares slightly.
He added that fuel was a major expenditure, costing over R2 million a month.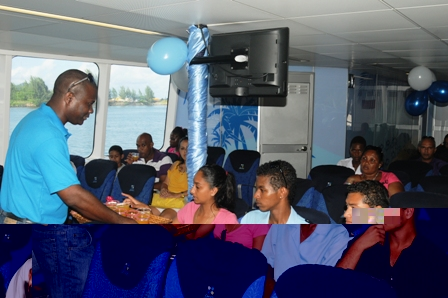 Cyril Bonnelame, the chief executive of Inter-island Boats, United Concrete Products and Domaine de l'Orangeraie hotel on La Digue -- all owned by Mr Albert -- said the difference in fares between Seychellois and foreigners helps maintain it at an affordable level for residents.
He said that for residents this works out at less than R4 per km.
"If we were to have only one set of fares, the residents will end up paying more," he said.
Mr Bonnelame said demand has recently increased with the higher air fares and it is often necessary for the catamarans to operate extra trips.
Wilton Ernesta, a former ocean-going captain, is the manager of Inter-Island Boats, being in charge of day-to-day operations and staff.
The anniversary was also an occasion to announce that Inter-island Boats is planning to purchase a second large catamaran, which will be named Isle of Mahe.