Dr Payet meets Sweden's King Carl Gustaf XVI
26-May-2012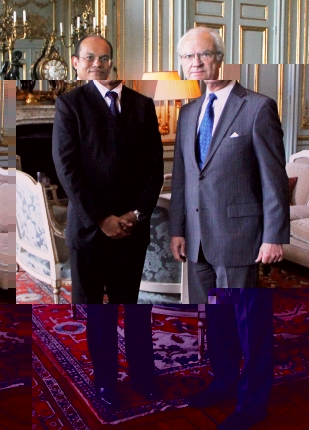 The discussions focussed on the issue of climate change and the effects being observed in small island states such as Seychelles.
Dr Payet also took the opportunity to invite King Gustaf to visit Seychelles once again, especially to visit Aldabra, one of Seychelles World Heritage sites.
Dr Payet is on an official visit to Sweden (from May 20-27) where he has been undertaking a number of discussions with the government and universities in Sweden on environment and energy matters.
He was also invited to deliver a special lecture at the Royal Swedish Academy of Sciences. The lecture, which focused on the role of adaptation science in addressing the impacts of sea level rise, was attended by academics and students from the Academy, the University of Stockholm, and from as far as the University of British Columbia in Canada.
Dr Payet also held discussions with the permanent secretary of the Royal Swedish Academy of Sciences, Professor Staffan Normark, on the development of an atmosphere-ocean observatory in the Seychelles.
Discussions were also held with the Chairman of the Committee on Energy, Professor Sven Kullander, on global energy futures and prospects for technology development in the area of renewable energy.
Dr Payet also held brief discussions with Dr Magnus Friberg of the Swedish Research Council on emerging research and pilot technologies on ocean wave energy.