Fibre-optic cable arrives
28-May-2012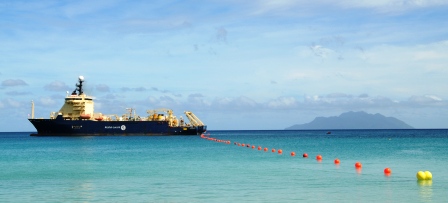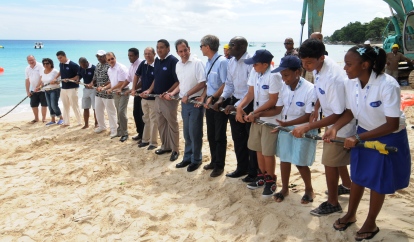 Also present were Vice-President Danny Faure, Natural Resources and Industry Minister Peter Sinon, Seychelles Cable System company (SCS) chairman Benjamin Choppy and its board members including chief executive of Cable and Wireless Seychelles Charles Hammond and the chief executive of Airtel Tsirasy Randriamampiowana.
They waited as heavy equipment pulled in the last 484 metres of the cable that now links us with the world network through Dar es Salaam.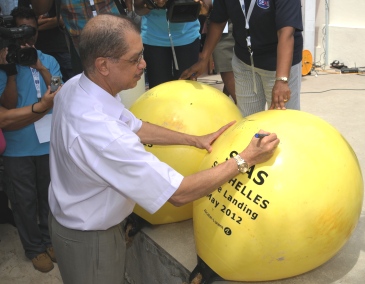 They also signed the two buoys previously attached to the fore end of the cable, in keeping with the Alacatel-Lucent company tradition which signifies the landing of such a cable.
The dignitaries, company representatives and school children symbolically pulled the cable towards the shore near Beau Vallon's La Plage restaurant where it will be fed into a manhole and joined to a network that is expected to deliver faster and better internet and other telecommunication services in July.
The event also attracted many onlookers.
Mr Michel said the landing of the cable is "a milestone in our country's proud history as an independent nation in the global communication village".
He said the event marked a special moment which has the potential for transforming our economy and our way of life, for the better, and noted this week also marks the first anniversary of his second term in office.
"The Seychellois people elected me on the platform of my commitment to build a New Seychelles. And I shall not waver nor be distracted in the pursuit of this goal. The transformation of the New Seychelles rests on a knowledge economy, on a knowledge-based society, stimulated by our youth, who live and thrive through IT innovation," he said.