Sherlyn Furneau is Seychelles' 2012 beauty queen-● Shanice Hoareau 1st Princess, Natasha Robinson 2nd Princess
28-May-2012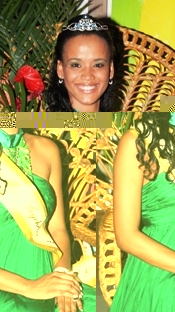 At the end of the colourful pageant, organised by the Seychelles Tourism Board (STB), Sherlyn promptly declared that as Seychelles' ambassador, she intends to do her country proud.
Sherlyn, who also won the Miss Personality title, enjoys swimming and jogging, believes all the contestants were beautiful and intelligent, but that maybe she had that little "extra something", which swayed the panel's decision.
After parading in casual wear, swimwear and evening gown, Sherlyn, whose main sponsor was Lesperance Complex at Providence, said we must be positive in life.
"We must not shy from whatever problems we may encounter, because the sun always shines in the end."
Sherlyn was crowned by First Lady Nathalie Michel before a packed audience, as Antoinette Dodin sang Kelly Clarkson's A moment like this, a fitting song for the occasion.
In addition to showcasing Seychelles at various tourism and trade fairs abroad, Sherlyn wins diamond jewelry from Jouel of Kenwyn House (which is also the sponsor of the crown); one week's vacation at the St Regis Meridien in Mauritius, donated by the Meridien group; an air ticket to Italy, sponsored by Air Seychelles; a weekend for two at Desroches Island Lodge; a weekend at the Four Seasons Hotel; R15,000 from Sacos Insurance; a R3,000 package from Intelvision, an evening gown from "KanKan Seychelles", and several other prizes.
The first runner-up, 19-year-old Shanice Hoareau, who loves dancing and is presently studying at the Seychelles Tourism Academy (STA) for a career in tourism, was also the winner of the "People's Choice" decided on support received from mobile phone text messages sent in via Cable & Wireless and Airtel. She had brilliantly answered a question of publicity for Seychelles as an island destination, noting the diversity of our 100-odd islands, the multi-ethnicity and the unique Creole cuisine, among other attributes.
She also wins diamond jewelry from Jouel of Kenwyn House, R10,000 from Sacos, as well as an air ticket to South Africa, sponsored by Air Seychelles, among various prizes.
Another STA student, Natasha Robinson, among the youngest in the pageant at 18, was judged the second princess. She loves going to the beach and intends to pursue a degree in tourism management at the University of Seychelles. She was also deemed Miss Photogenic.
Responding to a question from the panel, she said that if she had only five minutes to live, she would spend that with her family, as she holds her parents as the most precious to her. She also wins jewelry from Jouel, vacation at the Acajou Hotel on Praslin and a trip to South Africa.
Miss Bonjour, sponsored by the local perfume company, was won by Vanessa Adam, 21, who enjoys doing arts and crafts and will be graduating from her studies in teaching at the University of Seychelles.
The best evening wear was, according to the panel, worn by tall Christina Fondamière, whose ultimate goal is to be a good wife and mother.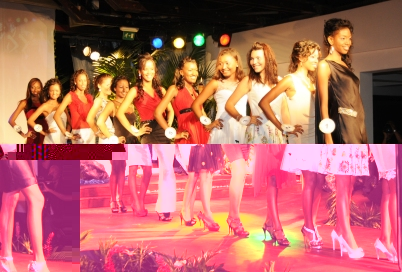 Before the results were announced, the eleven contestants were each presented with a bouquet on behalf of the STB and other organisers by the Minister for Labour and Human Resource Development, Idith Alexander.
Before the girls paraded, STB chief executive Elsia Grandcourt noted that the first beauty pageant in Seychelles was held in 1968. She said that the contestant represent Seychelles' melting pot of cultures and the winner of the first pageant organised by STB will be the new face of Seychelles at various tourism fairs abroad.
"Choosing a beauty queen for our islands is a daunting task, not only because there are so many competing beauties, but because the new Miss Seychelles will now play a prominent role in representing her country at both local and international events. In this, and other ways, we aspire to encourage events-based tourism in order to add value to the Seychelles holiday experience by showcasing our unique Creole culture."
The pageant was possibly the best ever held in Seychelles, with all contestants of quite high standard and the judges had a mammoth task deciding the winners.
At one point after the parade, MCs Amanda Hunt and Raymond Clarisse kept the tension at fever pitch by announcing that there was a "tie" and the judging was taking long because of a "deadlock". This also maintained the contest to a nail-biting finish.
The panel of judges consisted of Seychelles Hospitality and Tourism Association (SHTA) chairman Louis D'Offay; Marie-France Watson, chief editor of Pot-Pourri magazine; Michelle Lane, Miss Seychelles 1997; Tessa Laporte, a former model and owner of Citronella Beauty SPA; Aziz Patel, member of the Miss Reunion organising committee since 1994; Bwalya Mwali, who worked as PR and marketing last year for the first Miss Southern Africa international pageant; and Washington Ali, also involved in the Miss Southern Africa as well as other pageants around the world.
If the crowning of Sherlyn Furneau was unanimous, many in the packed audience were subdued when it became clear that favourites such as Vicky Cupidon, Petra Morel and Isabel Lavigne had not won any prize at all.
Besides the beautiful girls, the audience also watched video footage of them taking part in various events and at various unique sites. They took part in the Carnaval International de Victoria in March, the eco-friendly marathon and visited the islands of Moyenne and Aride, went hiking up nature trails and snorkelled among the rays in the Baie Ternay Marine Park.

The casual wear was sponsored by "Kankan Seychelles" and the swimwear by Fersey, accessorised by Bels Kingharman, Stella & Dott, while the evening dresses were individually sponsored.
Before the parade, all contestants performed a sensual dance in traditional Creole skirts - to introduce themselves.
MC Hunt said the STB had clearly prepared them for a journey of exploration and discovery. She expressed the hope of everyone that the winners will remain true to themselves and make Seychelles proud of them in whatever they do.
"We must show that there is a purpose to beauty," she said.
Mr Clarisse insisted that whatever the outcome, everyone comes out a winner.
"May this pageant be a memorable one."
Popular artists, such as Chico Martino, Sandra, Smash Kids kept the audience well entertained whenever the beauty pageant contestants were not on the catwalk.