Zimbabwe seeks closer tourism ties with Seychelles
29-May-2012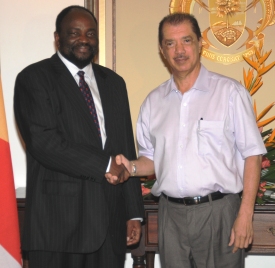 The country's Foreign Affairs Minister Simbarashe Mumbengegwi said this at State House yesterday when he called on President James Michel as a special envoy of his President, Robert Mugabe.
"Seychelles is well known in the tourism sector, and that is an area we are not fully developed so we can benefit a lot from the skills and expertise developed in Seychelles," he said, talking of a possible boost in education and training ties.
He told the media that he gave Mr Michel a message – "to which he was not privy" – from the Zimbabwean Head of State.
Mr Mumbengegwi was accompanied to State House by Seychelles Foreign Affairs Minister Jean-Paul Adam, both of whom told the media they meet often at international forums and are due to meet at a summit in Rwanda on June 1.
"I took the opportunity of meeting President Michel to brief and update him on the latest developments in Zimbabwe," said Mr Mumbengegwi.
"Generally the economy is improving but not as fast as it should because of the illegal sanctions that have been imposed on Zimbabwe by the western powers, so in the context of the Southern African Development Community we have always campaigned for the lifting of the sanctions and we hope Zimbabwe and SADC will step up the efforts to have the sanctions removed so that development can be speeded up."
He described ties between his country and Seychelles as excellent.