VP Faure lauds teamwork behind fibre-optic cable link
29-May-2012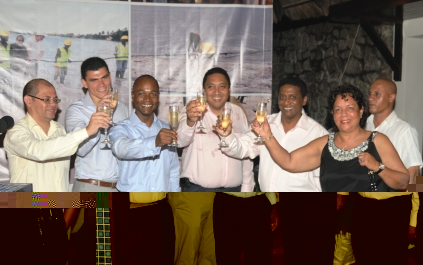 Mr Faure – who is also the Minister for Information, Technology and Communication – commended their team spirit at the Le Meridien Fisherman's Cove hotel during a reception hosted on Sunday evening to commemorate the arrival.
Referring to it as a vision realised, he said the cable is a new key piece of national infrastructure and commended the teamwork that prevailed during the planning for, financing and laying of the cable.
Mr Faure – who was himself earlier commended for his role by President James Michel – said the milestone event showed our resolve, resilience and determination as a population, calling the feat yet another victory for Seychelles.
"This cable represents a key piece of national infrastructure that will support our development as a country. This was why a few years ago, we started off with a vision.
"A vision to start a public private partnership that would undertake the responsibility for the laying of a submarine fibre-optic cable between East Africa and Seychelles.
"I am very proud to say that today this vision has become a reality. The cable is here and very soon people will start enjoying the benefits," he said.
Projects of that magnitude do not happen without a team of dedicated individuals driving them, said Mr Faure.
He commended the Seychelles Cable System company (SCS) chairman Benjamin Choppy, who is also the principal secretary for Information, Technology and Communication as well as the chief executive of Cable and Wireless Charles Hammond and the chief executive of Airtel Tsirasy Randriamampiowana, noting their companies' staff and previous heads played a big role.
"As government, we are counting on the two of you (Messrs Hammond and Randriamampiowana) and the other services providers, to ensure that the vision of increased internet penetration for our households is realised."
He also commended Alcatel-Lucent who built the cable, and technical advisors AXIOM who did the feasibility study.
"Our appreciation also goes to Zantel, the telecommunication service provider in Tanzania, selected as the landing party cable host to connect us to the network of global infrastructure, and financiers African Development Bank as well as the European Investment Bank."
He said the banks chose to finance a large project for the country shortly after we took bold decisions to transform the Seychelles economy.
"We would like to thank them for their faith in us," he said, noting the EIB were even generous enough to give a grant of €4 million to the project.
Mr Faure said the government will continue to honour its commitment to its people, to ensure wider communication access and greater affordability in service delivery, as we step into the future and stay online with the cable.
Mr Choppy gave Mr Faure and the honorary consul to Tanzania Maryvonne Pool a sample of the cable as souvenirs.