Metrology for safety highlighted
30-May-2012
A ceremony to mark the day was held last Friday at the Seychelles Bureau of Standards (SBS) Providence headquarters in the presence of the Minister for Natural Resources and Industry Peter Sinon, among other guests.
This year's theme is Metrology for Safety and highlights the importance of metrology in our lives.
Metrology is the science of measurement and is not to be confused with meteorology, which is the science that deals with the atmosphere and weather.
For example, isn't it important that you get an exact dose of a medicine when you are sick?
You pay for water that you use based on a meter reading and you go to a petrol station to fill up your vehicle, and you figure out whether you are getting an exact litre of petrol for the price you paid.
What if the bar code reader at the grocery store incorrectly tells the price of an item you want to buy? Or what if you import parts from one country, only to find out they do not fit the mating parts of your vehicle, which is from another country?
Consider an athlete breaking a record at a sporting event by milliseconds and not getting recognition!
All these scenarios involve metrology, without which life would be very difficult indeed!
At Friday's event Minister Sinon said this year's theme reflects the importance of getting reliable measurement results to ensure we are safe whether at work, rest or play.
"In Seychelles, the national metrology lab and the national legal metrology service -- both based at SBS -- strive to provide the local communities they serve with expert metrological knowledge that allows our country to function reliably in this modern, high-tech world," he said.
The SBS announced that they recently got a new equipment called a hydrostatic jacket, used to test dive cylinders and ensure that no sub-standard dive cylinders are being used for commercial or personal purposes.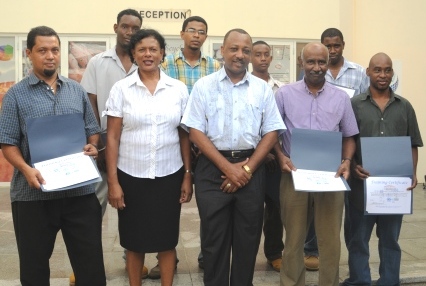 A number of staff who followed a training course to be able to use this equipment to its full potential were presented with certificates by Minister Sinon at Friday's ceremony.
The SBS chief executive Amy Quatre said they will continue to invest in new equipment and keep abreast of new development in this international metrology community.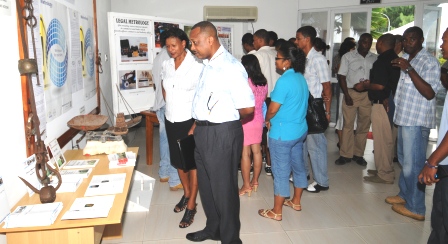 An exhibition was also hosted to showcase the roles of the bureau as well as demonstrations showing the various activities in metrology that the SBS carries out.