Liberation heroes honoured on 35th anniversary
06-June-2012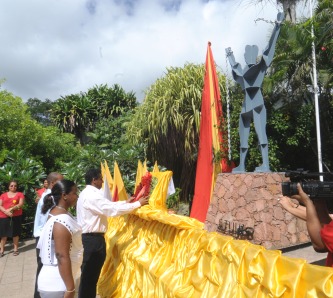 Mr Faure, in his role as the party's secretary-general, was accompanied by two youths and a veteran for the event which is traditionally hosted to pay tribute to the country's June 5 liberation heroes.
After Mr Faure had set the tone for the event, three people from each district – a representative from the youth, women and the branch chairman of the Parti Lepep – then laid a wreath at the monument, to the tune of solemn music by the national brass band.
Also present at the event were former vice-president Joseph Belmont, cabinet ministers and other high-ranking government officials, the party's central committee (CC) members and supporters.
The CC members also laid wreaths at the monument.
As usual, the colourful ceremony also attracted a number of camera-toting tourists.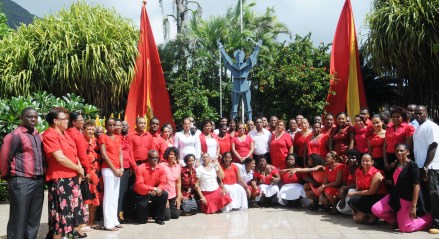 After the ceremony everyone who had taken part posed for a souvenir picture in front of the Zonm Lib and joined the other people present in singing party songs and chanting slogans.

Apart from the wreath-laying ceremony, activities were held at various places on Mahe to mark Liberation Day.