'IOC more dynamic and aiming higher'
08-June-2012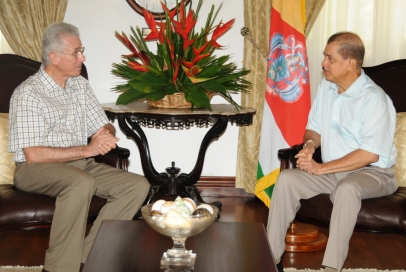 He was speaking to the media after calling on President James Michel.
He said the organisation he has led for the past four years now has 10 ongoing projects worth 10 million euros with the European Union being its main funding agency.
During his tenure of office, the IOC staff number grew from 19 to 30.
The newly created unit that will coordinate communication and action against piracy is one of the projects spearheaded by the IOC.
The IOC is hoping for funding from other organisations and to work to increase its visibility with more people knowing what the organisation's roles are, he said.
It is also involved in stepping up surveillance against illegal fishing and supporting public health promotion programmes, funding, for example, Aids prevention education projects as well as a look-out for epidemics within the region.
Mr d'Offay said other nations and bodies that have shown interest in working with the IOC include China, Japan, Australia and L'Agence Française de Développement.
"We have put in place an agreement with the African Development Bank (AfDB) which will be more focused on the establishment of a maritime corridor of the Indian Ocean countries to establish the necessary infrastructure for maritime transport, of air links and connectivity for new technology," he said.
"This is very important. We hope the AfDB will help us effectively and quickly."
The political crisis in Madagascar remains one of the major issues the IOC wishes to see resolved, but Mr d'Offay said the issue is complex and involves a large country where election logistics, for example, are not easy to put in place.
He said his successor Jean Claude de L'estrac has worked a lot with the media and is expected to boost the IOC's visibility.
Mr d'Offay said he expects to return to the Ministry of Foreign Affairs.