Local farmers need more help to boost production
08-June-2012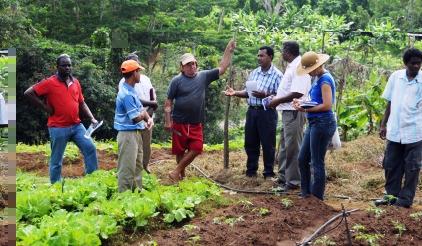 Minister Peter Sinon said his ministry will seek financial help through international organisations like the Food and Agriculture Organisation (FAO) and others to redevelop the agriculture sector.
Mr Sinon made those remarks recently when he was visiting farmers at Val D'Andorre in the upper Baie Lazare district.
The aim of the visit was for the minister to apprise himself of the farmers' concern so as to better help them.
He also wanted to see how active they are at a time when there is an increasing demand for land for agriculture and other development activities.
Minister Sinon was accompanied on the visit by the principal secretary from his Ministry Michel Nalletamby, the newly appointed chief executive of the Seychelles Agricultural Agency (SAA) Marc Naiken and several high ranking officials from the agriculture department.
The Baie Lazare district comprises an important community of around a hundred farmers, most of them active and based in the Val D'Andorre sub district.
While the visit started earlier in the morning when Mr Naiken and other officials called on several farmers, Minister Sinon joined the delegation later when he also talked to several other farmers.
Among the main concerns that most of the farmers brought to the attention of the authorities are the need to relook at water facilities for them. At present there is a tough battle for water between the farming community and the Public Utilities Corporation (PUC), which has priority over water sources in the area.
The farmers called on the government to look at ways to increase the water storage capacity in the area and also to come to an agreement with the PUC for a more equitable sharing of water between the two parties.
Minister Sinon said there is a need for his ministry to also review and extend the services it offers to the farming community.
Among their many concerns the farmers have expressed the need for the minister and officials of the agriculture department to be reconnected to them and their everyday realities.
Shortage of fertilisers, theft, labour shortage were some other concerns that farmers brought up.
With regard to labour shortage, Minister Sinon said the country has accepted foreign labour in the tourism and construction industries and already farmers producing on very large scales have foreign hands on their farms.
"This is inevitable as our own Seychellois are reluctant to work on the farms and production has to continue," he said.
Mr Sinon said farmers who are doing well need all the encouragement possible to keep them in production.
Guy Mathurin, a farmer with large banana plantations, stressed strongly for more help from the agricultural agency with regard to water facilities, help to make it faster to obtain foreign labour and also the need for the Seychelles Agricultural and Horticultural Training Centre to make it easier to have students do attachment training on their farms.
Mr Mathurin argued that all his attempts to get students attached to his farm have been unsuccessful.
Security from thieves who roam the farms and go away with truck-full of fruit planted by the farmers was also discussed and Mr Sinon said there is a need to see how to help the farmers.
The minister and his delegation also visited water facilities which included a well and pump.
Minister Sinon said farmers who through their own initiatives and personal investments have overcome all challenges and are doing well should also receive all the support necessary to help them open more doors to sell their produce and also educate other farmers to raise the level of their productions so as to benefit from potential markets.
Mr Sinon said this after he visited a private farm belonging to Alix Esparon.
Mr Esparon, a farmer for many years, now supply hotel establishments like ISPC, Banyan Tree and Four Seasons with vegetables and fruit on a weekly basis.
Mr Esparon has invested in facilities of high standard like a refrigerated delivery van, a post harvest house and he also a good clientele for his produce.
"With increasing numbers of five-star hotels demanding high-level services there is a market for quality produce and our farmers have to know how to tap into those markets. They have to know how to produce quality goods in order to derive the most benefits from them," said Minister Sinon.
"This is why there is a need to better educate the farmers," he added.
Minister Sinon ended his visit at Guilmer Corgat's farm where the latter has introduced the latest technology in pig rearing. The pig sties have state-of-the-art equipment to recycle the waste and used water which is later used to water the farm.