President Michel resumes district visits, expects action
09-June-2012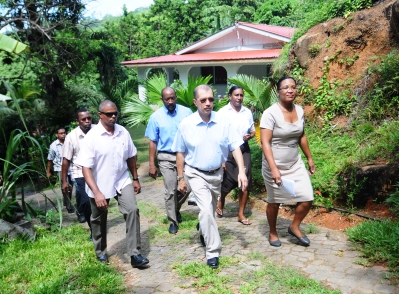 He restarted his visits with a busy tour of Port Glaud and Grand Anse districts, explaining in an interview that he had not been able to do so because he was busy with the comprehensive restructuring of government and the new plans of ministries and departments.
Saying he expects the ministers and officials to follow up his visits with concrete action, Mr Michel said he is as keen as ever to ensure his government delivers good services to the people of Seychelles, adding that he has boosted the manpower of his office to ensure it keeps track of what the other sections are doing and keep him updated.
During the first leg of his visit, Mr Michel was accompanied by Designated Minister Vincent Meriton – who is also the Minister for Social Affairs, Community Development and Sports, principal secretary for community development and sports Denis Rose, principal secretary for Presidential Affairs Lise Bastienne, member of the National Assembly (MNA) for Port Glaud Sultane Jacqueline and the district's administrator Maisy Port-Louis, among other people.
The visit started with a meeting at the Port Glaud district administration office, after which Mr Michel inspected the district's renovated community centre.
He then walked to the home of former MNA Ginette Gamatis saying though she is not as active as before being not as strong as when she was young, we should not forget what she and others like her have done for the country.

Mr Michel visited the home of Lisette Mondon at Port Launay where two adolescent children have a rare disease.
The children, Vincent Hoareau and Doris Hoareau, were visibly delighted – even proud – to be honoured with a visit by the Head of State.
The delegation went on to a growing small business – Aqua Spring Water, which employs more than two dozen Seychellois – where Mr Michel was clearly proud to see the environment whose protection he champions yielding cool unpolluted water from a forested catchment, where the company treats and bottles it for "growing consumption by Seychellois and tourists".

The delegation visited a newly developed housing estate where Mr Michel spoke with residents telling the officials present that all departments should follow up on his visits with action.
At the Barbarons Biodiversity Centre, Mr Michel was met by Environment and Energy Minister, Professor Rolph Payet, who launched a new arboretum where important people including celebrities can plant special trees and hopefully come back later to see how they are doing.
Mr Michel became the first VIP to plant an endemic plant – a coco de mer – at the new arboretum.
The event was witnessed by the area's MNA Lenny Lebon and the chief executive and staff of the National Botanical Gardens Foundation Raymond Brioche and the district's administrator Raymond Benstrong.
President Michel's visit to Port Glaud and Grand Anse in pictures (some exclusive) taken by our photographer Patrick Joubert