Indian naval ship visits
13-June-2012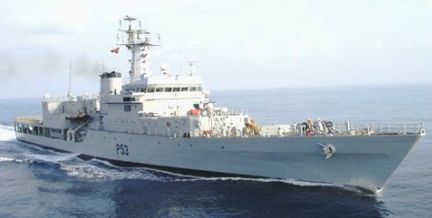 During her port call at Port Victoria from June 16 to 19, INS Savitri will provide extensive technical assistance and training to the Seychelles Coast Guard (SCG).
The ship will also take part in the National Day parade on June 18 with a marching contingent and the ship's Chetak helicopter will taking part in the flypast along with the Indian Dornier based in Seychelles since February 11.
"This deployment adds one more chapter to the defence and maritime co-operation between India and Seychelles," says a communiqué from the Indian high commission.
The ship will carry out extensive EEZ surveillance in designated areas of Seychelles from June 14 to 15 with SCG personnel onboard and again from June 19 to 25. During the surveillance, the SCG personnel will be trained in navigation, seamanship and various other ship related evolutions.

INS Savitri is part of the Eastern Fleet of the Indian Navy and is well equipped with state-of-the-art equipment and sensors.
The ship also has a complement of marine commandoes onboard to assist in anti-piracy operations.

The ship's commanding officer is Commander Sunil K. Pandey, a missile and gunnery specialist. His key appointments include commissioning crew of INS Gharial, INS Prabal, tenures onboard destroyers INS Mysore, INS Brahmaputra and missile corvette INS Kirpan. He is assisted by a team of professional and highly motivated officers and men.