19 Chinese couples choose Seychelles to swear eternal love
16-June-2012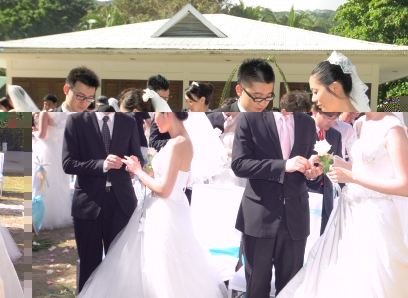 They had arrived here on Thursday aboard Ethiopian Airlines from Beijing via Addis Ababa for five days honeymoon.
The grooms were dressed in black suits and tie and the smiling brides pale cream dresses and the lifetime occasion was held under the theme "Encounter another world".
The vows as read by a coordinator and repeated by the happy newly weds, ran similar to those usually taken in Seychelles: "Do you wish to marry me.. for richer or poorer.. in sickness or in health.."
Watching under the coconut trees, were former President James Mancham, the Minister for Tourism and Culture Alain St Ange and the chairman of the Seychelles Tourism Board (STB) Barry Faure.
Also present were the Chinese ambassador to Victoria, Shi Zhongjun and the Seychelles ambassador to Beijing, Philippe Le Gall, who were also at the airport Thursday to welcome the couples, part of a 92-strong group, including 32 journalists covering the event and the destination.
"Many destinations would have welcomed such newly weds on their shores to see them start married life together, but you, decided it was to be the Seychelles," said Mr St Ange.
He said they are reminding the world of this important tie we have with China.
"You are reminding us that we are truly the melting pot of cultures with roots coming from France, Britain, Africa, China and India."
Mr St Ange also reminded everyone that just a year ago, the Prince of England, Prince William and his bride, Kate Middleton, chose Seychelles for their honeymoon.
"Seychelles is that dream honeymoon destination and we know that we can have no other destination who can even try to compete with us for that title," he said.
Unfortunately, at this time of the year, the sea in the background was very rough, with huge waves lashing Barbarons beach – there was nobody swimming and it was far from appealing.
Nevertheless the mass wedding generated considerable interest from other guests staying at the resort, including Indian visitor Glisha Mammen from Kerela, who is on her second honeymoon and Pakistani Dorothy Ayoub David, who were very exited and joined the Chinese newsmen in shooting pictures.
The wedding and honeymoon boiled down to a tourism publicity stunt organised by STB, the Seychelles embassy in Biejing and the China-Seychelles Cultural Association, which this year is marking 150 years since the first Chinese decided to settle in Seychelles.
The association's chairman Mr Cui, read a poem, wishing the couples "eternal love".
A t-shirt was especially printed for the occasion and worn by many of the guests.
One of them, endorsed with the newly weds' names, was presented to the STB.
As part of their honeymoon, excursions have been organised for them by Mason's Travel. These include trips to Praslin and La Digue, which the Chinese media will help turn into a holiday of a lifetime.