Poetry gets much needed boost
16-June-2012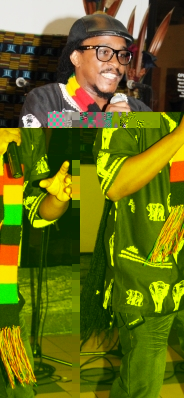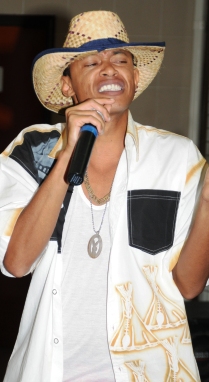 Messrs Joubert (left) and Jolicoeur in action during the recent FetAfrik event
In an interview with Nation, local poet Tony Joubert (Raspyek) said the first step to doing that was bringing poetry to local schools to show children that it is still an art that is alive and kicking.
"Too many people get the impression that it is a lost art and we want to try and dispel some of those myths," he said, adding that recently Lardwaz launched a poetry network and that this small group of poets – Humble Militants – has decided to take on small projects.
"The basic idea is to produce e-newsletters targeting the local poetry crowd and those interested in the art as well as producing monthly poetry manuals."
Another idea is launching a website or a facebook page to be able to promote the art.
President of SLAM Poetry Association and Spoken Words Association Jean Danoël Jolicoeur from Rodrigues who was visiting Seychelles for FetAfrik last month says the idea behind the Seychelles-Rodrigues collaboration is to promote poetry as a social, cultural and educational movement.
"Back in Rodrigues we hold workshops with kids every Saturday to try and refine and develop their skills," he said, adding that musicians as well as comedians also take part in the workshops.
Mr Jolicoeur said he is working closely with Seychellois poets to be able to bring this aspect of poetry to the country as well.
"In Rodrigues, we try to make poetry a community event. For example we could meet at the beach for poetry sessions after which we will do some cleaning up, so we are promoting poetry as well as giving back to the community," he said.
"Another example would be visiting homes for the elderly and bringing entertainment in the form of poetry reading to them. It's the little things that count and in this way, we are not simply reciting poetry but also living it."
Mr Joubert says more projects are in the pipeline for poetry in Seychelles and local poets will be working closely with Rodrigues for advice and exchanges throughout the year.
Rebecca Belle