Veteran artist Jean Ally pulls out "proudly Seychellois collection"
16-June-2012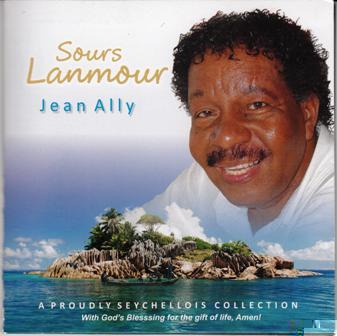 The dozen songs include some new ones, such as 'What a happy day', and Ed li, now often played on Paradise FM Radio as well as old favourites including Pardonn mwan manman, Lavi komela and Ma Zozefin.
There is also Linite, a patriotic song, often played on national occasions, while Popouri sega is a medley.
Jean Ally is also well known as singer of Gospel songs.
He was born and grew up at Anse Kerlan, Praslin and Aride Island. As he grew up, he adopted the guitar and harmonica as his trademark instruments.
Jean's talent was quickly noticed and in 1977, he was selected to represent Seychelles at the Nairobi Show, with Patrick Victor and Marie-Cecile Medor, where they became a hit, singing the popular Kenyan song "Malaika".
As the songs rolled on, he got to perform in a growing list of countries including UK, France, Germany, Switzerland, Russia, Japan, Singapore, Australia and closer to home, in Reunion.
He also entertained on the German cruise ship Astor for a circuit of the Indian Ocean, calling at Nosy Be, Mombassa, Zanzibar and the Comoros.
For the 12-song CD, Jean Ally is backed by such musicians as Peter Jules, Alain Bacco, Cyril Vital, Tony Julie, Andy Constant. He enjoys the vocal backing of Dave Pool and Mina for his song Linite.
Recording and mixing was done at Seychelles Recording Studio, Mahe, but the CD was produced in Singapore.
It is on sale at Ray's Music Room and Kot Do at R150. It can also be purchased from Jean Ally himself, for R125.
J.L.