Banquet in honour of Mauritian PM Navin Ramgoolam-Hailing a 'special relationship'
19-June-2012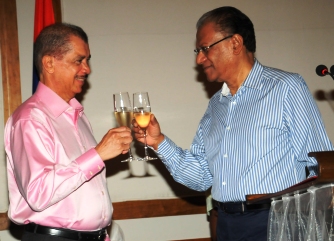 Such friendship, the two leaders said, augurs for a promising future and a dynamic partnership between Seychelles and Mauritius.
They were speaking at a banquet at the Kempinski Resort on Sunday night hosted by President Michel and his wife Natalie for Dr Ramgoolam, who arrived earlier during the day on a three-day State visit.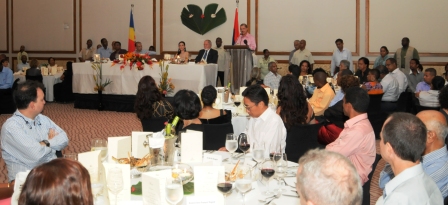 The Mauritian premier, whose delegation includes the Minister for Foreign Affairs, Dr Arvin Boolell and several other senior officials, was also the guest of honour at yesterday's National Day celebrations.
At the banquet on Sunday, a trio backed by Patrick Victor sang the popular Mauritian song Larivyer Tanye and the national anthems of both islands were played, setting the stage for the exchange of convivial speeches by both leaders.
President Michel recalled that just three months ago, he was in Mauritius as guest of honour at that country's National Day and Dr Ramgoolam was now returning the visit.
"Your visit is placed under the sign of the deep-rooted friendship between our two countries. I am proud of this friendship. This affinity can be strengthened further, and in a way that is a lot more strategic, thanks to the efforts and determination of our two governments and peoples," President Michel said.
He addded that Seychelles has always counted on Mauritius as a neighbour and friend.
"And Navin has demonstrated the determination that enables us to translate this friendship into a dynamic partnership that brings benefits for the Seychellois and Mauritian peoples."
"I know Navin as a person who keeps his promise. During many years he has played a key role in the development of Mauritius. He has worked tirelessly in positioning Mauritius as a country with a dynamic economy, and also an unfailing commitment to its social contract with its people," he added.
President Michel said Seychelles is proud to welcome Prime Minister Ramgoolam as our guest of honour. He went on to hail his qualities as a leader. "He is not a person who will just do things because he is popular. He does it for the good of his people. And that is the quality of a true leader."
According to President Michel, if our two countries are cited among those with the best governance in Africa, it is because we have demonstrated our resoluteness to utilise our resources to ensure development for our peoples. It is because we have invested in our respective populations, we practice transparency and believe in the rule of law.
President Michel noted that during this historic visit, we are renewing and strengthening this partnership between our two peoples. We are connecting our universities and also bringing our health services closer together, through an agreement in health professional exchanges between our two countries.
He said this friendship strengthens our resilience as two small island developing states in coping with the crisis spreading across the world, "which is actually the most severe we have known".
President Michel said Seychelles and Mauritius plan to create the facility for commerce and supplies and efforts will be intensified through the framework of the Indian Ocean Commission (IOC) to achieve that.
He said we have to be able to utilise all the potentials of the biggest island in the grouping, Madagacar, and this means we need to continue our efforts to bring peace to the island through the road map of the Southern African Development Community (SADC).
Prime Minister Ramgoolam thanked President Michel and the Seychellois people for the warm welcome extended to him and his delegation.
On the similarities between our two peoples, he added a touch of humour, noting we both share "fish curry and sega dancing".
Dr Ramgoolam said we are living though "extraordinary times" and small island developing states as Mauritius and Seychelles must forge a common destiny, especially since they share the same ocean.
He echoed President Michel's call for renewed resilience, adding that with the crisis hitting the Eurozone, it is not easy for countries with no natural resources.
Dr Ramgoolam noted that Mauritius and Seychelles recently made history by becoming the first two countries in the world to make a joint application to the United Nations on the delimitation of extended continental plateau, providing for joint management of an extra 396 square kilometres of maritime exclusive zone.
"Our islands may be small, but with such a vast area of ocean, we have become huge," he said.
Dr Ramgoolam said that since his first visit in 2006 -- to attend the inauguration of President Michel after his re-election -- he has noticed significant developments, under the leadership of President Michel.
He added that Mauritius is also seeing accelerated development, proof that the future of both island states is full of promise.
The banquet was attended by former President James Mancham, Vice-President Danny Faure, members of the diplomatic corps, as well as Seychellois and Mauritian dignitaries.
Members of the Mauritian community in Seychelles, who had made a special effort to welcome their Prime Minister when he landed at the Seychelles International Airport, were also present.