19th National Day-Theme-sensitive parade enthrals crowds
19-June-2012
As was the case last year, it carried special messages in, for example, a show of chances given to Seychellois women to show their ability in the national drive for their empowerment.
Featured for the first time were flypasts by four Seychelles-based aircraft involved in anti-piracy activities with three parachutists dropping into the stadium from a French naval forces' plane, drawing loud cheers from the hundreds of spectators who thronged the Stad Linite.
The aircraft were a Chetak helicopter from the Indian naval ship Savitri – which returned after the flypast to offer President James Michel a salute, an Indian Dornier fixed wing plane, two Swearingen Merlin planes of the Luxembourg maritime patrol and a Twin Otter from the Seychelles Air Force.
Members of the armed forces and others who took part entered the grounds in Diamond formation last night. Last year they did so in V shape in line with the Victory for Seychelles national theme, parade coordinator Major Simon Dine told Nation.
"To support the gender parity drive, this year the flag bearers are all women," he said, noting a big number of other members of the parade were female.
Second Lieutenant Rhonda Lucas carried the French flag, 2nd Lt Stephanie Theresine the Seychelles flag and 2nd Lt Dania Woodcock carried the Indian flag.
The three are following the Seychelles Young Leaders' Programme.
The parade was made of 14 platoons under the command of Major Francois Antat assisted by Captain Joachim Cadeau and Warrant Officer Francoise Germain.
The 14 were from the Defence forces headquarters of the Seychelles People's Defence Forces, the Seychelles Coast Guard, The special force Tazar, the Military Young Leaders, the Indian, the French the regular police, police cadets, the Police Special Support Wing, the Seychelles Fire and Rescue Services Agency, the President's Award Scheme, the District Youth Council, Young Citizens and the Seychelles Scouts.
They all marched in remarkable unison drawing acclaim from the spectators, who earlier warmly welcomed President James Michel, guest of honour Mauritian Prime Minister Navinchandra Ramgoolam and other dignitaries as they entered the stadium.
After Mr Michel's speech – which was the highlight of the event – popular musicians and groups offered traditional, patriotic and contemporary songs amid spectacular display of lights.
The official aspect of the celebrations paved the way for further festive events which were – by the time we went to the print – clearly poised to go late into the night as families and friends enjoyed the special ambience as well as snacks and drinks which vendors made available.
Below are some of the photos taken at last night's event.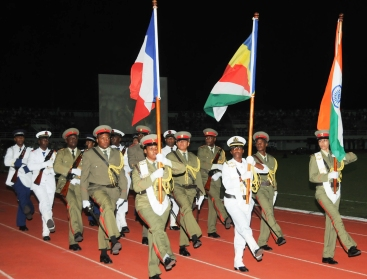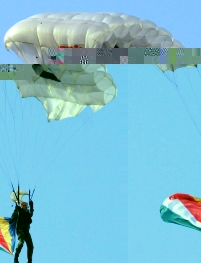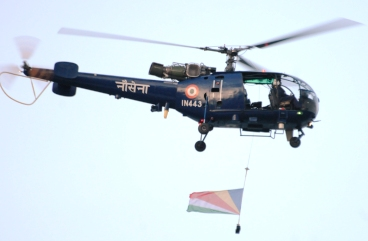 Tag: National Day 2012