Visit of Mauritian Prime Minister Dr Ramgoolam-Leaders see big potential for trade, security and other ties
20-June-2012
The two leaders discussed state affairs in a tête-à-tête meeting before joining a working session with Vice-President Faure and ministers to discuss cooperation projects between Seychelles and Mauritius on matters of trade, security, education, tourism, health and the Indian Ocean Commission.
Following their meeting, President Michel and Prime Minister Ramgoolam signed a joint letter addressed to the United Nations secretary general formally informing him that the landmark treaties for the Joint Exercise of Sovereign Rights and the Joint Management of the continental shelf in the Mascarene Plateau region entered into force that day.
The two leaders also formally exchanged diplomatic notes declaring the completion of the necessary procedures needed for the treaties, signed by their respective governments during President Michel's state visit to Mauritius in March this year, to come into force.
"The visit of Prime Minister Ramgoolam to Seychelles following my own visit to Mauritius in March this year shows that Seychelles and Mauritius believe strongly in our friendship and our partnership. There is enormous potential for cooperation in trade, security and regional affairs.
The letters we have exchanged today on the joint management of our extended continental shelf illustrate that we are committed to sustainable development. Our two countries and peoples understand that sustainable development depends on effective management of shared resources and the blue economy, which is the lifeblood of our future.
"Seychelles and Mauritius have a common vision for the development of our region and this historic visit of Prime Minister Ramgoolam has reinforced our efforts to create a strong Indian Ocean island area of cooperation," said President Michel following the meeting.
Prime Minister Ramgoolam said he felt "great pride" in attending the Seychelles National Day celebrations and that the historic agreement between Mauritius and Seychelles to jointly manage the Mascarene Plateau region would bring important benefits to the people of Mauritius and Seychelles for the development of their economies.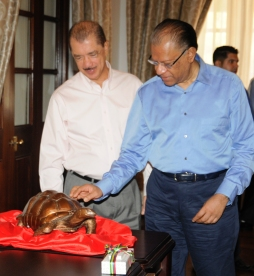 "Mauritius and Seychelles have a very close relationship as neighbours, but the friendship between the President and myself goes much beyond the ordinary relations between two leaders of neighbouring countries; it is a relationship based on trust and mutual esteem.
"For this reason, I think, this mutual esteem and trust made it possible for us to succeed in our joint submission to the United Nations for joint management of the extended continental shelf….

"We made history, as the only two neighbouring countries in the world who have reached such as an agreement….
"Furthermore we are increasing cooperation at all levels, including tourism. I am satisfied this will increase, as each country has named an ambassador to follow up on our cooperation, so that we do not lose time….
"We can do more to work together as we share similar problems and a common vision for sustainable development," said Prime Minister Ramgoolam.