Seychelles' beauty queen promotes pageant's theme
21-June-2012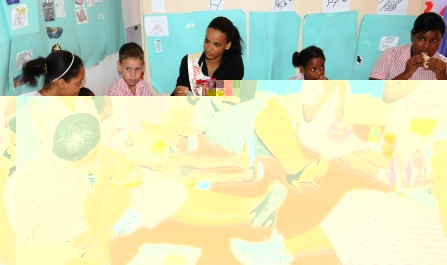 Her first visit yesterday was at the Au Cap school for the deaf where she spent time with a group of children with hearing impairment.
Her visits have been organised by the Seychelles Tourism Board (STB) in partnership with the Seychelles Children's Foundation.
She was accompanied at Au Cap yesterday by Sharon François, a senior coordinator of events in the celebrate Seychelles department within the STB.
Also there were the chairperson of the local Association for People with Hearing Impairment (Aphi) Anita Gardner, the school's headteacher Fatima Agathine and teachers Shana David and Shireen Guy.
Monica Desir, who won the second princess in the Miss Deaf Africa 2012, was also present.
Miss Furneau got the chance to actively take part in a sign language class with the children where she mastered some basic techniques.
She also took part in a special presentation prepared by the children for her and spoke to them and their teachers.
After her visit she said she felt privileged to have met these children who are special in their own ways.
"Those hearing impaired children are intelligent and their classes are no different from those who are being attended by others of their age and they are interesting individuals."
She added that she has passion for children with special needs but will also work with young mothers and drugs and alcohol victims when she comes back from the Miss World beauty pageant.
Miss François said these visits are prerequisites for the Miss World pageant and the main focus is charity project which involves children.
She said Miss Furneau has great interests in the welfare of children in general especially those with special needs.
Miss Furneau is also expected to visit the School for the Exceptional Child at Roche Caiman, the Rehabilitation Centre at North East Point as well as meet children of the Ste Elizabeth homes and the autism parents support group.
Her visits are being filmed to be used as her video for the Miss World 2012 which will take place on August 18 this year in Ordos, Inner Mongolia.