President and opposition leader discuss issues of national interest
22-June-2012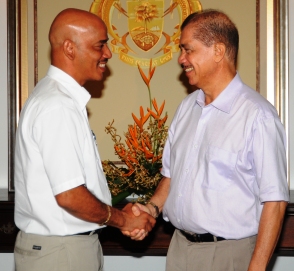 "The economic situation and the increasing cost of living which is affecting ordinary Seychellois need to be addressed in a serious manner," Mr Pierre told the press after his discussion with the President.
While he acknowledged the announcements made by Mr Michel in his State-of-the-Nation address with regard to mitigating the negative impacts of the rising cost of living on ordinary Seychellois, Mr Pierre said he feels that the government needs to do more to ensure the people benefit more.
He said an area in which he believes the people can reap more benefit is from the tourism industry.
"I believe the people are not benefitting enough from this industry and the government can do more to ensure that more money generated by this industry enters the country," said Mr Pierre.
Mr Pierre said he believes if the government takes the necessary measures to ensure the amount of foreign currencies relating to the tourism sector entering the country increases, this will alleviate our economic situation by removing pressure on the rupee.
"This will in turn contribute to improve the cost of living," added Mr Pierre.
Another area in which Mr Pierre said he placed a lot of emphasis during his talks with Mr Michel is mismanagement in government departments.
"I believe we should tighten up more as a country and ensure the country does not mismanage money put in state coffers by the people. It is public money and it should be spent wisely," said Mr Pierre.
Mr Pierre said the customs department is also an area which he called on President Michel to look into seriously.
They both agreed that there needs to be greater efficiency in customs and revenue systems of the government so that a greater fiscal outcome is achieved and mismanagement is removed from the system.
Reforms in education were also another subject of Mr Pierre's discussions with the President.
While a motion he tabled recently in relation to education reforms was rejected by the Assembly, Mr Pierre said he all the same proposed some contributions to the President.

These included a new approach to the issue of discipline in schools and more autonomy for schools, among other issues.
Mr Pierre said he is happy to have the opportunity to discuss such issues of national interest with the President adding that he hopes some, if not all, of his propositions will be analysed and considered by the Head of State.