Stakeholders to be consulted on fisheries management plan
22-June-2012
A preliminary meeting was held at the SFA training room yesterday, attended by several fishing operators as well as officials of the Ministry of Natural Resources and Industry and the department of environment.
The survey is being conducted by fisheries consultant Michael King from Queensland, Australia and it is envisaged to hold a similar meeting with artisanal fishermen on Praslin late next week.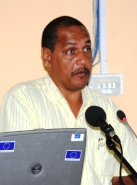 Mr Nalletamby addressing delegates at the meeting yesterday
Opening the meeting yesterday, the principal secretary for Natural Resources and Industry, Michel Nalletamby, said the fisheries sector is critically important both for assuring food security and economic development.
He noted however that although industrial fisheries constitute a major source of foreign currency earnings, it is the artisanal fisheries that remain of great importance in terms of ensuring our main protein source to communities and generating local employment.
Mr Nalletamby said Seychelles is one of the highest per capita consumers of fish in the world.
He noted that catches from small scale artisanal fisheries has however dropped by 35% in recent years. While piracy can be partly blamed for that decline, it is also linked to over-fishing.
A working paper circulated at the meeting states: "Overfishing is a localised problem in the artisanal fishing grounds. Demersal and reef resources targeted by line and trap fisheries are over-exploited, especially around the main granitic islands. Some of the most prized and vulnerable species have disappeared from parts of their natural range or have become extremely rare. Several species of groupers concentrate in large aggregations when spawning, making them vulnerable to open access fishing."
Mr King said restricting the amount or size of catches and protecting or restoring fish habitats, have also proved to be useful in mitigating over-fishing.

He added that imposing quotas, restricting entry into fishing areas, as well as some types of gear can also be envisaged.
Mr King however noted that over-fishing is often linked to the pressure to maintain catches, combined with the political desire to increase production.
He said that while information from scientists and conservationists are ignored, it is difficult to deal with environmental threats.
There was considerable discussion on who should co-manage fisheries. It was ultimately agreed that government should be consulting more with fishing operators, before taking decisions involving them.
One long line operator voiced disagreement that foreign operators from the European Union and Asia, whom he blamed for over-fishing, are also benefitting from subsidy on fuel on the same level as local fishers.
There was agreement that this should be a privilege reserved for local operators.