Exhibition on spirituality fosters healthy living
23-June-2012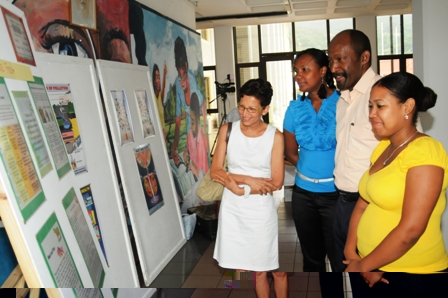 The two-day event is being organised by friends of Brahma Kumaris Raja Yoga Meditation Organisation, which has been present in Seychelles from the early 1990s and was registered as a body in 1998.
It is a teaching organisation working at all levels of society to foster positive values and ethical living in line with its parent organisation, the Brahma Kumaris World Spiritual Organisation.
The Brahma Kumaris exhibition was launched yesterday by Designated Minister Vincent Meriton in the presence of the organisation's national coordinator Florence Benstrong as well as members and other guests.
Mr Meriton said this activity comes at a time when Seychelles is promoting a national campaign aimed at bringing a positive transformation in our society and in the lives of our people.
"Events like the one today are necessary because they help us appreciate that despite the enormous progress and remarkable feats that mankind has achieved over time, we can still do better and be better human beings."
"We have an excellent opportunity today to familiarise ourselves with the wisdom of the Brahma Kumaris philosophy, which is based on the values of peace and love that lie within each one of us."
He added that it tells us that we can be masters of ourselves because whatever we need is found within us – be it through prayer or meditation, there is a need for us to make time and find this place within.
Mrs Benstrong said the organisation acknowledges the intrinsic goodness of every human being and help people rediscover goodness and understand their inner strengths and moral as well as social values through a practical method of meditation known as Raja Yoga Meditation.
She said the meditation courses are offered regularly in their centre which is situated along the Hermitage Road leading to the SBC television station and that all activities and courses are offered free of charge as a service to the community.
"Topics such as overcoming stress and anger, positive thinking, developing self esteem are covered," she said.
Guests were then able to view the exhibition where they learned more about pure food, the supreme link and the soul world among other things.
There were also several books which promotes positive health and practical meditation on sale.
After the launch guests got the chance to experiment Raja Yoga meditation in a quiet corner of the library and were able to ask questions on this practice.