Air Seychelles-Etihad partnership-Final batch of cabin crew graduate
26-June-2012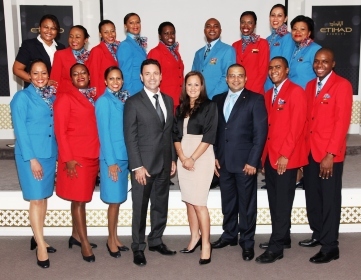 Seychelles' Minister for Labour and Human Resource Development, Idith Alexander, was among guests at the ceremony.
Also present were Cramer Ball, Air Seychelles chief executive officer, and executives from Etihad Airways, including Ray Gammell, chief People and Performance Officer, and Aubrey Tiedt, vice-president Guest Services.
In the graduating group were 12 Air Seychelles cabin crew, all of whom have successfully completed the airline's 25-day, specially-designed training programme focusing on its new A330-200 aircraft.
The graduates will each undergo a final phase, flying "familiarisation flights" across Etihad Airways' A330 network to get real firsthand experience working the new aircraft.
Once complete, cabin crew will return to their permanent base in Seychelles, to resume work on Air Seychelles' international flights.
Addressing the graduates at the ceremony, Ms Alexander said: "I am pleased to congratulate you on your successful completion of this very demanding programme. We trust that you have seen rewards for your hard work and will bring the iconic Creole warmth to your role as ambassadors of the Seychelles. Your country is very proud of you."
Mr Ball said: "This is a milestone in the revitalisation of the Air Seychelles brand. With the training of our cabin crew now complete, we will be ready to welcome the Airbus A330 to our fleet with the personality and professionalism of world-class Creole service.

Congratulations again to the 12 exceptional crew graduating today. We look forward to seeing you on board the A330 very soon."
This fourth and final group brings to 66 the total number of Air Seychelles cabin crew to undergo A330 training.
Future recruits for cabin crew will also undergo safety and service training at Etihad Airways training academy in Abu Dhabi.